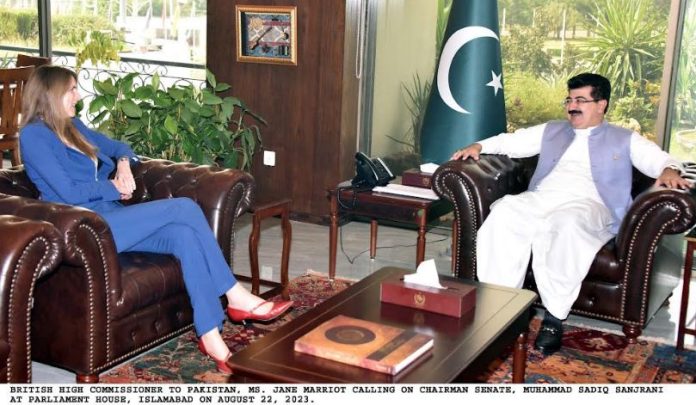 DNA
ISLAMABAD, AUG 22: The British High Commissioner, Jane Marriott held a meeting with the Chairman Senate, Muhammad Sadiq Sanjrani, at the Parliament House today. The meeting was marked by a thorough exchange of views on matters of mutual interest and the exploration of avenues for enhanced cooperation between Pakistan and the respective countries.
During the meeting between Chairman Senate and British High Commissioner Jane Marriott, a comprehensive range of topics were deliberated upon. Issues of paramount importance such as trade, investment, parliamentary cooperation, and public relations between the two nations were discussed in detail. Chairman Senate highlighted the need to amplify partnerships between Pakistan and the United Kingdom across various sectors, particularly in the realms of health, education, and technology.
The emphasis was placed on fostering collaboration through the mobilization of existing parliamentary friendship groups.
Muhammad Sadiq Sanjrani underscored the abundant investment opportunities that Pakistan offers within a favorable economic environment. He emphasized the ongoing efforts to promote investment and extend incentives to potential investors. The belief in the stabilizing impact of investor confidence on the economy was reiterated. Furthermore, the Chairman hailed Gwadar's emergence as a burgeoning economic hub and encouraged British investors to explore investment prospects in the region.
The convergence of Pakistani expatriates in the United Kingdom as a bridge between the two countries was acknowledged, and Chairman Senate expressed his warm wishes for the British High Commissioner. Echoing the sentiments of the Chairman Senate, the British High Commissioner praised Pakistan's hospitality and socio-cultural diversity. She affirmed Britain's recognition of Pakistan as a vital partner and expressed eagerness to advance and broaden the bilateral relationship.