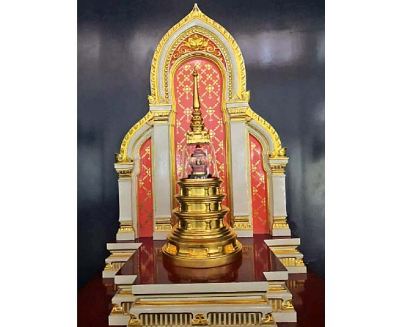 The relic in gold platted bullet proof showcase is gifted by Thailand: Ambassador Chakkrid
Agencies
WAH CANTT, Ambassador of Thailand to Pakistan Chakkrid Krachaiwon on Tuesday inaugurated gold plated gallery with bullet-proof glasses to display the holy bone relics of the Lord Buddha at Taxila Museum on Tuesday.
The gallery was gifted and installed by Thai government with multiple security and safety features for better safety and security of the unique relics. Speaking on this occasion, Ambassador of Thailand to Pakistan Chakkrid Krachaiwon has said that the installation to mark the 71st year of Thai-Pakistan diplomatic relations.
He said that the container in which the holy relics is preserved is designed as a symbol of good will and long-lasting diplomatic and cordial relations between two friendly countries that have the similarity of culture and history. "This gallery is a symbol of interfaith harmony between different faiths and cultures".
Ministry of foreign affairs Additional Secretary Asia and Pacific, Mumtaz Zahra Baloch said on this occasion that Thailand and Pakistan relations are deep-rooted. The gallery presentation, the three-month-long Chief Buddhist monk of Sangha Supreme Council of Thailand, Most Venerable Arayawangso, who along with his disciple, pilgrimage to Pakistan is proof of the fact that along with diplomatic relations, the cultural relations are on the fast track. We see more prospects of enhancing relations, especially religious tourism.
Speaking on this occasion, the Punjab Department of Archeology Deputy Director Muhammad Iqbal Manj said that since the inauguration of the Taxila Museum in 1928, the holy relic for the first time has been displayed in a separate gallery in a special one-meter-long bulletproof glass.
He said that with the state-of-the-art security features- the threat of theft of the holy relic was now out of the question. He said that the holy relic of Lord Buddha was discovered in a silver casket containing a silver inscription. The inscription is written in the ancient Kharosthi script that was once common throughout Gandhara. The inscription states that Urusaka of Noacha placed bone relics of the Buddha in his chapel at Dharmarajika. The excavation was carried out by the then Surveyor General of British India Sir John Marshall during excavations carried out from 1912-16 in Taxila from Dharmarajika Stupa.=DNA
======================