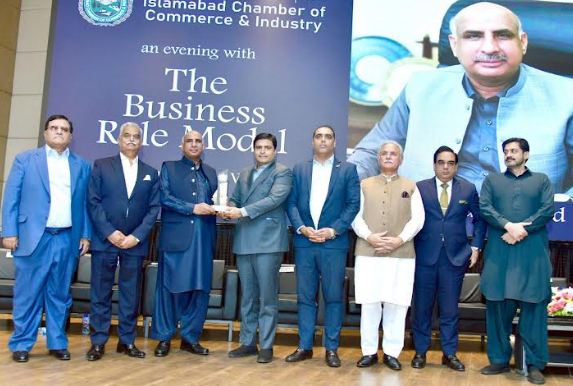 ISLAMABAD, AUG 29 /DNA / – Ch. Abdul Majeed, Chairman, Faisal Town and the 3rd largest real estate developer in the country said that Pakistan has the potential to generate 100,000 MW of hydro power, which is very cheap, but has not been exploited as yet due to which the nation is in trouble on account of inflated electricity bills. He stressed that the government should build small and medium size dams to produce hydropower in order to provide cheap energy to businesses and industry that would help boost the economy. He said this while addressing a Business Role Model ceremony organized in his honor by the Islamabad Chamber of Commerce & Industry (ICCI).
Ch. Abdul Majeed said that the government should ensure fair spending of tax money to improve the confidence of taxpayers and promote tax culture. He said that 90 percent of loans taken by the country have been spent on non-productive activities due to which the Pakistanis now facing huge foreign debt of USD 140 billion and stressed that the loans taken by the country should be spent on productive projects that would generate economic activity and create jobs. He said that if CDA facilitates, he is ready to develop an iconic project in the Capital that would be unique in Pakistan. He said that facilitation of investors is the way forward for Pakistan to grow as a strong economy. He announced to give 100 plots to ICCI for giving them to deserving members on concessional prices. He also announced to give Rs.10 million to ICCI for its welfare activities.
Ahsan Zafar Bakhtawari, President, Islamabad Chamber of Commerce & Industry said that Ch. Abdul Majeed has delivered many mega real estate development projects including Faisal Town, Faisal Hills, Margalla City, Islamabad Gardens, Multi Gardens, Tele Gardens, Multi-Residencia & Orchards, which have provided a quality living environment to the citizens. These projects have also generated a lot of business activities and provided jobs to thousands of people. He said that the real estate sector has the potential to revive the economy and stressed that the government should announce a package for this industry to steer Pakistan out of the current economic crisis.
Faad Waheed, Senior Vice President ICCI said that the real estate and construction sector promotes the business of 70 allied industries and the government should create a conducive environment for this industry to turn around the economy.
Khalid Iqbal Malik, Group Leader ICCI said that Sec-7E is a major hurdle in the growth of business activities in the real estate sector and stressed that the government should withdraw this tax.
Zafar Bakhtawari, former President ICCI and Secretary General, UBG Pakistan said that investors like Ch. Abdul Majeed are real role models and youth should idealize them to excel in life. He said that Overseas Pakistanis can invest billions of dollars in the real estate sector in Pakistan because high taxes on this sector are discouraging them.
Khalid Javed & Muhammad Ejaz Abbasi, former Presidents, Shehzad Chohan and others also spoke on the occasion.