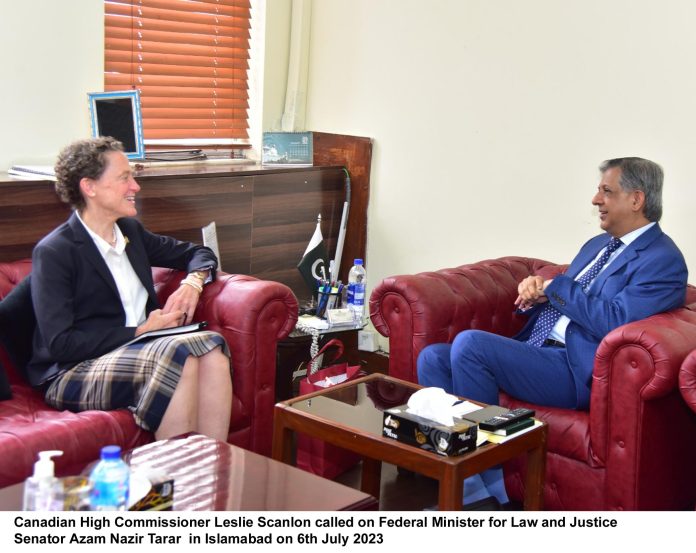 Mahnoor Ansar
ISLAMABAD, Canadian High Commissioner Leslie Scanlon on Thursday called on Federal Minister for Law and Justice Senator Azam Nazir Tarar.
According to the spokesperson of the Ministry, both sides discussed the long term benefits of partnership and cooperation between Canada and Pakistan in terms of mining projects in Balochistan.
The Canadian High Commissioner appreciated the Balochistan government for aiding, facilitating and cooperating in the mining projects with Barrick Gold Corporation. She said that steps towards the development of the region through renewable energy projects were also commendable.
While discussing civilian trials under the Army Act, the law minister explained that the Act and rules made thereunder were guaranteeing the rights of the accused such as engaging a counsel of his choice to engage, the right to have access to family members or friends and right to file an appeal etc. Individuals have also the right to move constitutional courts against the judgments of the military court, he added.
The minister mentioned that after the unfortunate Army Public School massacre in 2014, it became indispensable to amend the law and to deal with terrorists organizations under the Army Act.
He also expressed his deep concern about the growing Islamophobia in the world in particular quoting the recent incident of desecretion of Holy Quran in Sweden and said that this was an evident example of Islamophobia prevailing in the West. The Government had decided to take part in the protest to convey its message and to keep things within the bounds, he added.
The High Commissioner also informed the law minister that Canadian government had recently appointed a special representative to combat Islamophobia and she assured that Canadian government would be pushing it to have a special mandate against Islamophobia. Lastly, talking about the political situation, the law minister assured that the elections would be held on time and strengthening the democracy was the top priority of the government.