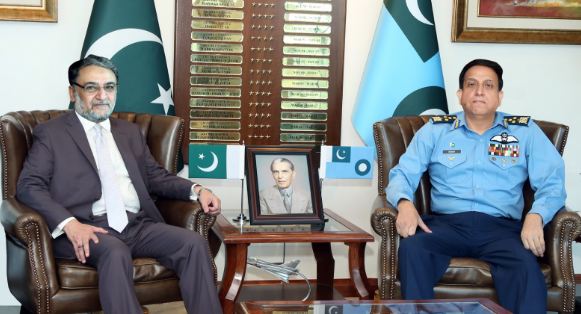 ISLAMABAD, AUG 23: /DNA/ – Caretaker Defence Minister of Pakistan, Lieutenant General (Retired) Anwar Ali Hyder, paid a visit to Air Headquarters Islamabad today, where he had a productive meeting with Air Chief Marshal Zaheer Ahmed Baber Sidhu, Chief of the Air Staff, Pakistan Air Force. During the meeting, matters pertaining to evolving geo-strategic environment and regional security situation were discussed.
Chief of the Air Staff provided a briefing on Pakistan Air Force's modernization plan and recent acquisitions from allied countries, aimed at ensuring an impregnable aerial defence of the country. He also provided a comprehensive briefing to the visiting dignitary on the Pakistan Air Force's operational construct, force goals and plans for the force structure with a keen focus on future warfare. The Air Chief highlighted the steps taken by the Pakistan Air Force to revamp the training of its personnel, equipping them to effectively tackle contemporary challenges. Emphasizing the importance of adapting to evolving security dynamics, the Air Chief also shared insights into the rigorous training programs and cutting-edge technologies being implemented within the PAF. Highlighting PAF's commitment to staying at the forefront of modern warfare, Chief of the Air Staff emphasized the importance of multispectrum operations in the domains of space, cyber and artificial intelligence. He also outlined Pakistan Air Force's strategic shift towards enhancing indigenous capabilities in these crucial areas.
Expressing admiration for the professionalism and dedication of the Pakistan Air Force personnel, Lieutenant General (Retired) Anwar Ali Hyder commended the pivotal role played by brave PAF warriors in safeguarding the sovereignty of Pakistan. He acknowledged PAF's immaculate response during natural calamities and disasters, showcasing the commitment of PAF personnel to serving the nation beyond their primary defence duties. The visiting dignitary commended Pakistan Air Force leadership for its vision and proactive approach towards modern warfare challenges. He also expressed his unwavering confidence in the current leadership of Pakistan Air Force and assured that PAF would be equipped with state-of-the-art technology, ensuring that it remains at the forefront of modern security challenges.
The Caretaker Defence Minister's visit to Air Headquarters is a testament to the Government's unwavering support and commitment to strengthening the national defence of Pakistan.