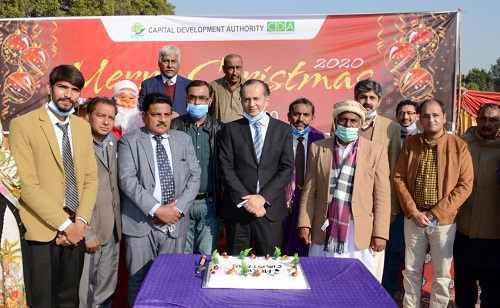 Shares joys of the Christian community on the eve of the Christmas; says CDA will extend all possible help to them
Saifullah/DNA
ISLAMABAD: Chairman Capital Development Authority (CDA) has said that every religion in the world values the spirit of service. It is heartening to see CDA workers, employees and staff perform their duties early in the morning. He expressed these views, while addressing a Christmas function at the Chairman's Office as a special guest.
A large number of officers and staff including Member Admin, Member Finance, Directors, Deputy Directors were present on the occasion. Addressing the function, Chairman CDA, Aamir Ali Ahmed said that everyone is facing difficulties due to Corona pandemic, lack of resources and the chain of problems will never end. "Whatever the situation, the city's cleanliness, beautification and rehabilitation of infrastructure is our top priority," he said.
"Every religion in the world teaches service, we have to work hard, and we have to work hard to succeed. I'm glad when someone says he sees the CDA staff working. It is not only the CDA administration or our board members who deserve this praise, but the CDA employees and you workers who work day and night to clean, beautify, repair, rehabilitate, carpet, street lights the city's streets.
The Chairman assured workers to solve their problems, including some increase in salaries. "Not only at Christmas, we will get together from time to time anyway, so that we can solve your problems in a better way," he added. During the ceremony, special prayers were offered for the security of the country and for getting rid of coronavirus pandemic.
CDA to restore century old mosque at Shakarparian
Capital Development Authority (CDA) will restore 100 year old Mosque which has been discovered during construction of lotus lake at Shakarparian.
The mosque is believed to be over 100 years old and it was a worship place for villagers of Pairan, who migrated from the area in the 1960s during Islamabad's development phase.
According to an official, CDA Chairman Amer Ali Ahmed has decided to restore this 100 years old mosque, "I have directed my team to take steps for restoration of this mosque, which is also our heritage," he said.
He said that this 100 year old mosque has been constructed according to mughals era which was comprising of two rooms, a water tank for ablutions and a wide courtyard.
He said that construction material of the mosque suggested that it was built over 100 years ago.
The banyan tree located in the mosque's courtyard is believed to be 500 years old, he stated.
He said that it was government's policy to boost tourism so work for its restoration would soon be started.