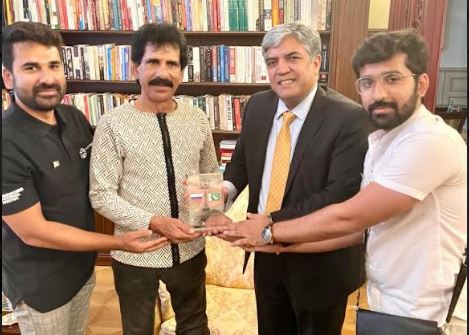 MOSCOW, AUG 16 /DNA/ – Pakistan Ambassador to the Russian Federation, Shafqat Ali Khan has received today Shahid Mehmood Butt, CEO of the Allied Fireworks Company Pakistan, which won first place in the Rostec International Firework Festival, held in Moscow on 14th August.
The Ambassador congratulated Mr Shahid Mehmood Butt on the remarkable success. He said that Pakistani company's first position in the international competition had proven their talent and competence.
The Ambassador noted that people-to-people contacts build the strongest links between the two countries. He further added that participation in such events provides an excellent opportunity to present Pakistani culture on the world stage.
Mr Shahid Mehmood Butt apprised the Ambassador of the technologies used in the fireworks. He added that high technology mixed with Pakistani classical songs won the hearts of the audience at the event.
Ambassador Shafqat Ali Khan presented a souvenir to the CEO of Allied Fireworks on behalf of the Embassy of Pakistan in Moscow.