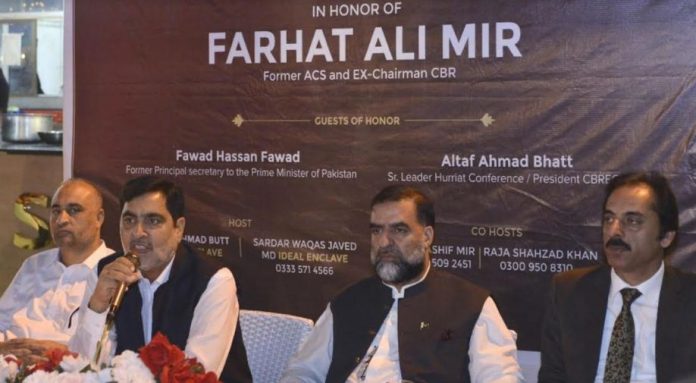 DNA
Islamabad, Aug 28: A distinguished ceremony was meticulously organized to celebrate the accomplishments of Farhat Ali Mir, a distinguished bureaucrat and constitutional expert hailing from the independent state of Jammu and Kashmir.
The event garnered an esteemed assembly of speakers who hailed Farhat Ali Mir as a source of immense pride for the Kashmir region. His contributions towards enhancing the state's administrative, financial, and constitutional framework were emphasized. Notably, he played a pivotal role in the landmark amendment of Act 74 in Azad Kashmir, a testament to his remarkable abilities.
The speakers emphasized the need to gear up for a global legal battle to resolve the Jammu and Kashmir conflict, putting an end to human rights violations in India and ensuring the right to vote.
The Thirteenth Amendment in Act 74 marked a significant turning point, placing the responsibility on the Azad Kashmir Government to actively support the Azadi Kashmir Movement. This includes the appointment of a Referendum Commissioner and advocating for the rights of Kashmiris on national and international platforms.
Prominent figures such as Hurriyat leader Altaf Ahmad Bhat, former Deputy Speaker Shaheen Kausar, esteemed businessman Shafiq Ahmed Butt, Commissioner FBR Abbas Mir, Director General of the Federal Ministry of Information and Broadcasting Sardar Tariq, former Deputy Attorney General of Pakistan Raja Khalid Mahmood, and other notable personalities, addressed the gathering. These individuals underscored Farhat Ali Mir's significant role in driving positive change.
In his address, retired Additional Chief Secretary and Founder Chairman CBR Farhat Ali Mir highlighted the original intent of civil service, which was not merely about employment but rather dedicated service to the public and the growth of the state. He reiterated Pakistan's unwavering support for Kashmiris over seven decades, even fighting three major wars on their behalf.
Farhat Ali Mir explained the authenticity of Sardar Ibrahim Khan's signature on the Karachi Agreement, which established the continued association of Gilgit-Baltistan with the state of Jammu and Kashmir. He emphasized that the future of Kashmir remains tied to a plebiscite, and while many powers were transferred, the vital subjects of foreign affairs and currency were retained.
A stark contrast emerged between the Azad Kashmir Assembly and the Jammu Kashmir Council. While the Council legislated and collected taxes, key Azad Kashmir officials struggled to secure funds for governance. Despite efforts, the collected tax money was mismanaged, leading to overdrafts and misallocation of resources.
The monumental Thirteenth Constitutional Amendment was a result of collective effort, spearheaded by leaders such as Raja Farooq Haider Khan. Farhat Ali Mir played a crucial role in drafting this amendment, engaging federal bureaucracy and stakeholders for consultation.
Altaf Ahmad Bhat, Chairman of the Jammu and Kashmir Salvation Movement (JKSM) acknowledged the sacrifices of countless Kashmiris in their ongoing pursuit of freedom from Indian occupation. He urged Pakistan and Azad Kashmir's governments to play a more robust role in the movement, providing support to global efforts that advocate for Kashmir's cause.
Chairman JKSM also stressed that after the abrogation of articles 370 and 35A on Aug,05,2019 Indian Fascist government has unleashed reign of terror upon besieged an oppressed Kashmiris. Thousand sof youth have been detained on flase charges vis a vis lawless laws such as AFSPA, PSA, UAPA. While target killing of youth in fake CASO's has become a norm for one million Indian occupation forces in IIOJ&K.
Altaf Ahmed Bhat also cautioned against India's intensified activities along the ceasefire line, reminding India of the resilience of Kashmiris in the face of decades-long oppression.
Chairman JKSM further added that Indian war mongering and hegemony is threat to the peace of whole South Asia. Hence peaceful and inclusive resolution to Kashmir issue is vital for statbility of the region.
Former Deputy Attorney General of Pakistan, Raja Khalid Mahmood, praised Farhat Ali Mir's instrumental role in the approval of the Thirteenth Constitutional Amendment, navigating legal challenges along the way.
Commissioner FBR Abbas Mir echoed these sentiments, underscoring Farhat Ali Mir's enduring impact and his pivotal role in various departments.
In conclusion, event host Shafiq Ahmed Butt commended figures like Farhat Ali Mir for their invaluable contributions to society. The event's diverse attendance affirmed the recognition of such exceptional individuals. Butt stressed the importance of tackling unemployment and advancing the freedom movement in Jammu and Kashmir.