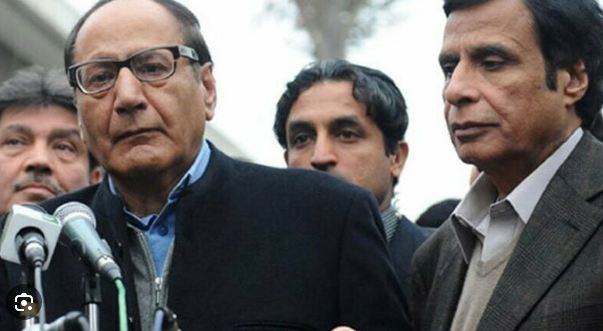 LAHORE, JULY 02 (DNA) — In a bid to break the ice between the cousins, Pakistan Muslim League (PML-Q) chief Chaudhry Shujaat Hussain on Sunday met Pakistan Tehreek-e-Insaf (PTI) President Chaudhry Parvez Elahi at Lahore Camp Jail.
Shujaat's son Chaudhry Salik Hussain and Chaudhry Wajahat accompanied Ch Shujaat to the jail to inquire about Elahi's health. Both the Chaudhrys also discussed the political situation prevailing in the country.
The meeting between the two is significant as Shujaat has been trying for the last several weeks to convince Pervaiz Elahi to quit the PTI and join the PML-Q again so that his ordeal in the jail could come to an end.
However, so far the PTI president has not shown his willingness to return to the PML-Q. It is noteworthy that Chaudhry Pervaiz Elahi, the President of Tehreek-e-Insaf, is currently serving judicial remand in a money laundering case.
The former Punjab executive was apprehended by the Federal Investigation Agency (FIA) on June 26, subsequent to being granted bail in an anti-corruption case. Elahi is among the PTI leaders who are standing firm with the party chairman, Imran Khan, despite a government crackdown that is followed by a mass exodus of leaders from the former ruling party.
PIC doctors term Elahi's health as satisfactory
The doctors of Punjab Institute of Cardiology (PIC) conducted a medical examination of former chief minister of Punjab Parvez Elahi in the prison and termed the health of Elahi as 'satisfactory'. During their fourth visit, the doctors team recommended some medical tests to Elahi.
Sources said Parvez Elahi was suffering from heart disease and PIC has formed a medical board for Parvez Elahi. "Parvez Elahi's physical condition is satisfactory and condition is not in such case that he be treated in the hospital," sources said. — DNA