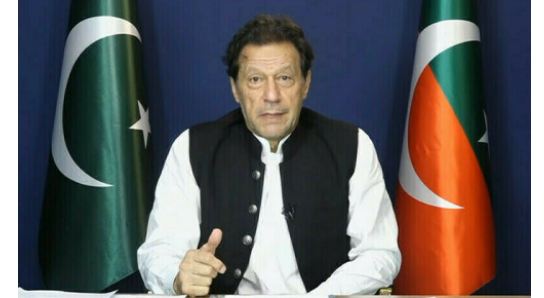 Changiz Khan like terror, fear being spread to enslave people: Imran Khan
Urges people to be ready for peaceful protest to reclaim 'Haqeeqi Azadi'
ISLAMABAD: Time to stand up to reclaim real freedom, Pakistan Tehreek-e-Insaf (PTI) Chairman Imran Khan came down hard on the imported government for replicating the Changiz Khan's style of governance to unleash a wave of barbarism and tyranny to spread terror and fear in order to enslave the people.
In a video message on Tuesday, PTI Chairman said that the fascist government crossed all limits of barbarity, as people standing on road sides were picked up and put them in jails without any reason.
Imran Khan said that whenever Changiz Khan conquered a city, he unleashed a bloodbath and massacre and only left handful people alive so as they could tell the people the tales of his barbarity and terrorism.
PTI Chairman said that as a result, the people were so terrified that all the cities accepted their defeat beforehand without any resistance.
Imran Khan went on to say that Pakistan was also currently going through the same situation today, as stories of cruelty were being run on TV channels, adding that people's houses were being demolished and videos were being made which were being played on social media and TV channels to deter people.
He said that there has never been no such oppression on women, the way they were being subjected to desecration and oppression in Pakistan now-a-days, adding that people standing on the streets and roads were being detained and abducted and put them in jails.
PTI Chairman reminded that all these kinds of terror and fear were being spread so that people could be terrified and petrified so as no one dared to come out to raise voice against these tyrannies.
Imran Khan stated that all these cruelties were being done to enslave the people; therefore he urged the people of Pakistan to stand up against these fascism to reclaim their real freedom.
PTI Chairman made it clear that they would have to render sacrifices for attaining 'Haqeeqi Azadi'. However, he stated that once the people decided that they would not tolerate this cruelty and would uphold the supremacy of the law and constitution.
Imran Khan said that when the people decided that they wanted free, fair and transparent elections in a constitutional manner and elected representatives and would not tolerate the rule of thieves anymore, then they would be free in the true sense.
PTI Chairman urged people to break the idols of fear and whenever there was a call for protest, they should leave their homes to hold peaceful protests not violent protests for their fundamental and constitutional rights to reclaim real freedom, as no one can stand in front of 23 crore of people.