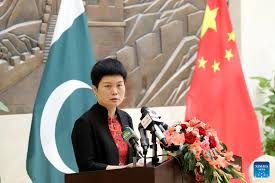 ISLAMABAD, "CPEC cannot progress well in a world full of cold war mentality. Therefore, media of China and Pakistan have the responsibility of speaking out for fairness and justice," said Pang Chunxue, Charge d'affaires of the Chinese Embassy here at the 7th CPEC Media Forum.
According to Gwadar Pro, Pang Chunxue said at the forum that CPEC cooperation has achieved fruitful results, under which the two sides have initiated or completed 46 of the 70 early harvest projects with a total investment of USD 25.4 billion.
Among the projects, "the East Bay Expressway of Gwadar Port has been completed and will open for traffic soon.
This year, China donated another 3,000 sets of solar panels to the Gwadar people, which brings the total number of donations to 7,000 sets. The construction of a desalination plant aided by China will start the construction soon in Gwadar," she stated.
Pang also added that two units of the Karot Hydropower project have started to provide stable clean power to Pakistan's power grid since May. After its full operation, its four units will provide electricity for 5 million people.
Despite the fruitful CPEC cooperation, false propaganda and disinformation on CPEC are on the increase. "Hostile forces are trying to undermine the development of CPEC, as well as the unity and mutual trust between the two countries."
She mentioned the Global Development Initiative and Global Security Initiative which called for common development and progress of all countries. However, QUAD, AUKUS, Indo-Pacific Economic Framework targeting China are undermining such efforts.
In this regard, Pang said that the media of China and Pakistan have the responsibility of speaking out for fairness and justice, and should be a positive force for CPEC, for world peace and stability.
She suggested that synergy among media circles should be strengthened. "Chinese media has seven permanent bureaus and one Urdu language studio in Pakistan.
Pakistan is believed to have over 100 television channels and 150 radio stations. Both countries' media should form in-depth cooperation in terms of exchange of news materials, co-production of programs, personnel training and co-organizing of activities, especially on CPEC," she said.
She also suggested the full mobilization of resources of multiple entities, the strengthening of narrative building, and the two sides should join hands in combating fake news, as some western countries continue to slander China on issues related to Xinjiang, Tibet, Hong Kong, and spread rumors on CPEC.
Therefore, "I hope that the media of China and Pakistan will play a more active role as a bridge, tell true stories of China-Pakistan cooperation, and consolidate the all-weather friendship between the iron brothers," Pang added.