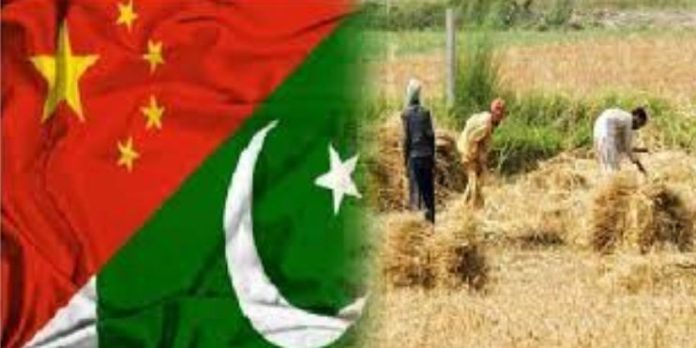 DNA
ISLAMABAD, Feb. 24: In a move to promote China-Pakistan modern agricultural cooperation, a framework agreement on Belt and Road agricultural cooperation was signed at the China-Pakistan Symposium on Modern Agriculture Cooperation at Northwest A&F University, China. 
According to China Economic Net (CEN), the agreement was signed by the Northwest A&F University, China National Machinery Industry Corporation (SINOMACH), and the Office of Foreign Affairs Commission, Shaanxi Provincial Party Committee.
The three sides agreed to work together in promoting international agricultural technology cooperation under the Belt and Road Initiative, training agricultural talents, building overseas agricultural parks and enhancing agricultural industrial chain of BRI countries.
Professor Zhang Lixin from Northwest A&F University told China Economic Net (CEN) reporter that to facilitate agricultural technology transfer, the University will establish a mechanism for expert exchange with agricultural universities and research institutes in BRI countries.
A resource-sharing platform is proposed at the symposium to share and promote success models.
Cooperation on agricultural industrial chain will also be stepped up. Projects including agricultural mechanization, deep processing of food, cross-border agricultural trade, agricultural warehousing, international logistics and overseas agricultural parks will be promoted via SCO (Shanghai Cooperation Organisation) Demonstration Base for Agricultural Technology Exchange, Yangling Area of China (Shaanxi) Pilot Free Trade Zone and Yangling Comprehensive Bonded Zone.
To support the above efforts, new scholarship programs are in pipeline to train agricultural talents. The overseas agricultural project bases under SINOMACH, including those in Pakistan, will offer opportunities to local students and researchers for study, internship, employment, and entrepreneurship.
The university is also launching new research projects jointly with Pakistani partners.
"We are going to cultivate green chilies in Pakistan, particularly in Sindh and Punjab", Abdul Ghaffar Shar, a doctoral candidate of Northwest A&F University who has been studying in China for nine years told CEN, adding, "I brought from China linseed back to Pakistan last month.
It is a variety most Pakistani farmers are not familiar with but can produce edible oil much needed in the country. Experiment has started at Sindh Agricultural University, Tandojam".
He told CEN that delegations from Habib Bank Limited (HBL) and People's Bank of China (PBOC) Xi'an Branch also attended the symposium to concentrate on ways to facilitate Pakistani farmers to use China's high-yielding varieties.