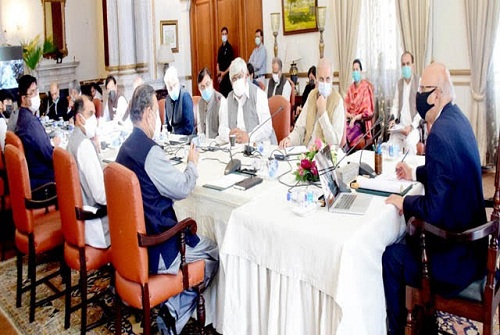 ISLAMABAD, Apr. 6 : Chairman China-Pakistan Economic Corridor (CPEC) Authority Lt. General Asim Saleem Bajwa (retd) said that Iron Brother China is providing research and machinery assistance to Pakistan for increasing cotton production.
According to Gwadar Pro, the Chairman CPEC Authority, Minister for Agriculture Syed Hasnain Jahanian Gardezi, and others participated in a meeting, chaired by Governor Punjab Chaudhry Muhammad Sarwar.
Addressing the meeting, Bajwa said the CPEC Authority was keen on facilitating farmers by assisting in various sectors.
"Cotton and textiles account for 8pc of Pakistan's economy and we must all work together to strengthen Pakistan's economy," he added.
The Agricultural Committee headed by Governor Chaudhry Muhammad Sarwar recommended increasing the per 40 kilograms price of cotton to Rs 5,000 and providing direct subsidy to cotton farmers.
The Committee's meeting discussed the problems faced by cotton farmers and their solutions including providing relief to the farmers.
Federal Minister for National Food and Research Syed Fakhr Imam joined the meeting via video link.
Addressing the meeting, Governor Muhammad Sarwar said that an effective policy and integrated strategy is needed to increase cotton production.
He welcomed the decision of the federal government not to import cotton from India and added that to encourage cotton growers, subsidies will be given directly to farmers in a phased manner and at the same time the federal and provincial governments will ensure that strict action will be taken against those responsible for selling substandard medicines to cotton farmers.
Sarwar said that to increase the production of cotton, all the stakeholders including those from the textile industry should be on one page for which the efforts have been initiated and we are utilising all resources to address the problems of our farmers.
Federal Minister for National Food and Research Syed Fakhr Imam said that the previous governments have been constantly neglecting the cotton farmers but the present government under the leadership of Prime Minister Imran Khan has stood by the cotton farmers and will continue to facilitate them.
The Federal government will ensure the implementation of steps following the recommendations put forward by the committee, he added.