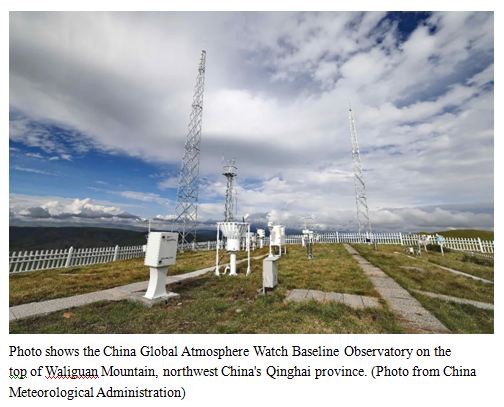 By Ren Ping, People's Daily
Waliguan Mountain is located in the Qinghai-Tibet Plateau, which is often referred to as "the roof of the world" and features an average altitude of over 3,800 meters above sea level. On the top of the mountain stands the China Global Atmosphere Watch Baseline Observatory, the highest baseline observatory in the world and the only one in the hinterland of Eurasia.
In the nearly 30 years since the observatory was established in 1994, generations of meteorologists have worked tirelessly day and night, producing the "Waliguan curve" that mirrors the variation of carbon dioxide concentration in the hinterland of Eurasia.
The "Waliguan curve" is of vital significance in proving climate change of the world and in supporting the United Nations Framework Convention on Climate Change. It is another example of China actively participating in and leading global ecological environment governance.
Earth is the only planet that humanity calls home, so protecting the ecological environment and promoting sustainable development are responsibilities shared by all countries.
In recent years, challenges including climate change, biodiversity loss, desertification, and extreme weather events have posed grave threats to human existence and progress.
Guided by the interests of all humanity, China has not only advanced its own ecological progress, but also actively participated in global environmental governance, providing more public goods to the rest of the world.
China has proposed a series of ideas like building a shared future for all life on Earth, made strategic decisions like carbon peaking and neutrality goals, promoted the construction of a green Belt and Road, and successfully hosted prominent events such as the second part of the 15th Meeting of the Conference of the Parties to the Convention on Biological Diversity(COP15) and the 14th Meeting of the Conference of the Contracting Parties to the Ramsar Convention on Wetlands(COP14).
China is committed to putting multilateralism into action and promoting a fair and equitable system of global environmental governance for win-win cooperation, so as to facilitate sustainable development and build a clean, beautiful world.
China's ecological achievements have gained wide international recognition, making China an important participant, contributor, and trailblazer in global ecological conservation.
The ecological environment concerns the wellbeing of all peoples. Only by taking into full account people's longing for a better life and a good environment as well as the world's responsibility for future generations, can social equity and justice be delivered in the course of green transition and people's sense of benefit, happiness and security be increased.
As it's often said in China, "It is more important to show people how to fish than just giving them fish." That's exactly what China has followed in participating in and leading global ecological governance. China has done its best to help other developing countries build capacity against climate change.
In Kazakhstan, a China-invested energy conservation project breathed new life into the Shymkent Oil Refinery, one of the three biggest refineries in the Central Asian country; in Nepal's Terai plain, Chinese green fertilizer trials boosted wheat and other crop yields by up to 400 percent; in over 100 countries including the Central African Republic, Fiji, and Laos, Chinese Juncao technology created many green jobs for local communities…
From technical exchanges to project development, and from personnel training to infrastructure improvement, China has achieved a series of tangible and effective cooperation results that have brought the fruits of development and sound ecosystems to the peoples of all countries in a fairer manner.
An 8K ultra-high-definition video taken by China's Shenzhou-13 crew on China's space station went viral last year. The breathtaking cosmic scenery is a reminder that the shared home of humanity, the Earth, needs joint stewardship.
As China embarks on a new journey, it will strive to build a modernization defined by harmony between humanity and nature. China will continue leveraging its own ecological progress to facilitate global ecological progress, take an active role in leading global environmental governance, and work hand-in-hand with all other countries to make greater contributions to building a clean and beautiful world.