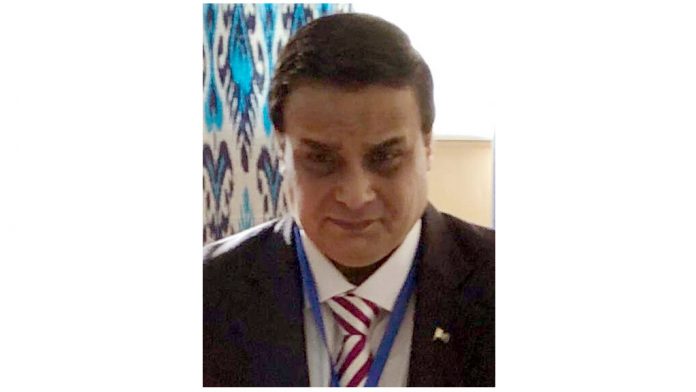 Dr Mehmood Ul Hassan Khan
Human spirits never die. Most recently, on April 4, 2020 Chinese government observed national day of mourning which was the "vivid reflection" of its holistic policies towards economics of humanity. Economics of humanity has multiplier effects which pay back its unlimited dividends for centuries to come.
It also upheld the philosophy of "Confucius" which emphasized correlation between dynamic and dynasty and government's moral values/strength, optimal rightness of social relationships, justice, kindness, and sincerity. It was held to honor its doctors, paramedics and citizens who died in the fight against novel coronavirus and the patients who died of COVID-19 on April 4, 2020.
It was arranged to salute and honoring the more than 3,300 people killed by deadly COVID-19 in China since it was discovered in December 2019. There have been more than 1.1 million confirmed cases of the virus worldwide; more than 60,000 have so far been died.
China's national mourning reflected various holistic human traits of its society and governance. Human traits have direct correlation with pure economic development. Human traits are pro-development attributions.
Honesty, determination, industriousness, service, submission and of course forwardness are the keys to a stable society and sustainable economic development in the world and China is not any exception. China is the "apex" of human values and always cares about sacrifices of people for "struggling" humanity. China's always respect the "departed souls" who lay down their precious lives for national causes. Due to which COVID-19 pandemic has been diminished with superior people's persuasions in China.
Throughout China, people of all classes, ranks, affiliations, professions and association observed three minutes national mourning. Chinese people stopped what they had been doing. Everything was standstill. In big cities to rural areas, unlimited ethnic groups and people belonging to different classes together bowed their heads and paid respects to the thousands of neighbors and fellow Chinese nationals friends, family, patients and medical workers who are no longer with them in the fight against COVID-19. There was pin drop silence, air raid sirens and vehicle horns wailed their lament and showed their sign of solidarity and submission towards sacrifices of Chinese people against COVID-19. Virus has been defeated due to spirits of Chinese virtuousness.
President Xi Jinping led the national mourning at a ceremony in Beijing, dressed in black and surrounded by the most prominent members of the Chinese Communist Party like Li Keqiang, Li Zhanshu, Wang Yang, Wang Huning, Zhao Leji, Han Zheng, and Wang Qishan stood in silence for three minutes in the Zhongnanhai leadership compound in Beijing. Flags flew at half-mast and entertainment was also suspended throughout the country.. As they paid a silent tribute in front of the national flag, a white flower in their chests stood in stark contrast with their black suits.
National Mourning Day OF April 4, 2020 was the first time that a major public health emergency had triggered nationwide mourning. Since the implementation of the National Flag Law, China has held three national mourning's to honor the victims of the 2008 Wenchuan earthquake, the 2010 Yushu earthquake, and the 2010 Gansu mudslide.
Moreover, fourteen people who died fighting the COVID-19 outbreak in central China's Hubei Province have been honored as martyrs, the highest honorary title which the Communist Party of China (CPC) and the country awards to citizens who bravely sacrificed their lives for the nation and the people.
It was a Chinese national response to all international propaganda tactics, widespread conspiracy theories and dirt politics. Even Chinese mass media (public-private) Xinhua and China Daily, reduced the palettes of their home pages to black and white and showed their solidarity with people of China in their sorrows.
Social media was also active to honor the "departed souls" and did the same with their profiles. Online, celebrities like "X-Men: Days of Future Past" star Fan Bingbing swapped their glamorous social media profile pictures for somber photos in grey or black. Chinese gaming and social media giant Tencent suspended all online games on the Chinese National Day Mourning.
Chinese national flags were flown at half-mast throughout the country as it mourned the thousands of 'martyrs' who lost their lives to the COVID-19 epidemic. Cars, trains and ships sounded their horns and air sirens wailed and all forms of entertainment were suspended for the day. The People's Republic has recorded more than 80,000 cases and 3,000 deaths since the outbreak began in December 2019 .
The majority of cases were in Wuhan, Hubei province, where the SARS-like virus was first detected in December 2019. The Chinese government hailed it as a 'heroic city' for the hardships and sacrifices of its 11 million citizens.
According to Chinese and international media in Wuhan, the capital of Hubei province and the epicenter of the outbreak, all traffic lights in urban areas turned red at 10 a.m. and all road traffic ceased for three minutes. About 75 percent of the people who are confirmed dead from the virus in China were in Wuhan, a city of 11 million people in Central China that is still under quarantine, which is expected to be lifted in the next week.
Since then, the virus has spread to all corners of the globe and has now become a global health threat sickening more than a million, killing over 60,000 people and paralysing the world economy. The overall number of confirmed cases reported in the United States now exceeds China's official tally by threefold.
To manage the human crisis of COVID-19, the local authorities in Wuhan city and Hubei province in central China, the epicentre of the outbreak did not waste any time in locking down cities. The Chinese leadership also saved time that democracies usually need in building bipartisan or multi-party consensus on potentially consequential decisions.
Due to systematic public awareness program Chinese people did not react to quarantine and lockdown restrictions with resistance or panic. They stayed in their homes and put masks whenever going outside. There was no panic among the general public in buying items of daily use like masks, paper towels or water like what we saw in recent weeks in the US or other affected countries. On March 25, China lifted the lockdown in Hubei with the exception of Wuhan and opened transport services. From April 8, outbound traffic from Wuhan will be available.
Conclusions
CONFUCIUS the greatest Chinese ancient philosopher and political thinker spoke highly about humans and human values. He cared about human beings, the human condition of metaphysics. Worry about humans, not gods; worry about life, not death remained crux of his teachings. He emphasized that good government would promote social harmony and the general well-being.
On April 4, 2020 China observed national day of mourning during which heads bowed and hearts filled with spirits of respectfulness and thankfulness to all those martyrs and departed souls alike who fought bravely against COVID-19 and acted like to frontline army to stop its national pervasiveness.
Many countries around the globe paid their homage to Chinese national mourning day and showing spirits of respect, humanity and togetherness in their statements and noble acts. The Republic of Azerbaijan paid great respect by placing Chinese flag to its towers of fire and other important national buildings on April 4, 2020.
Being prominent regional expert of China, CPEC & BRI I personally, think that proper CHANNELIZATION OF GRIEF AND OPTIMAL UTILIZATION OF SORROW WILL A VALUE ADDITION TO CHINESE SOCIAL HARMONY AND REVIVAL OF NATIONAL ECONOMY IN THE DAYS TO COME. Economics of humanity remained vector against all villain vanguards during the evolution of human civilization in the past and it will be same even in our existence beyond Mars in the future.