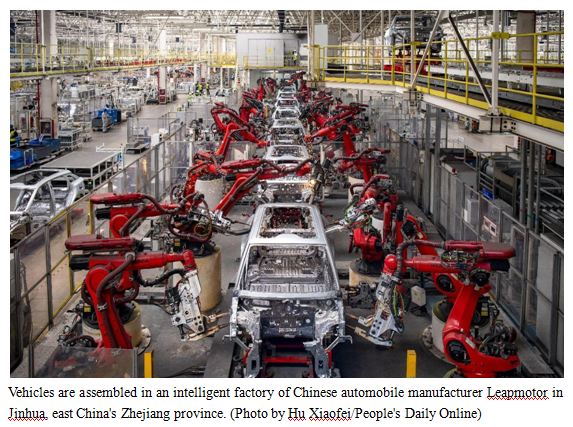 By Wang Zheng, People's Daily
China on July 3 hit the production milestone of 20 million new energy vehicles (NEVs) as a pure electric car rolled off an assembly line of Chinese automaker GAC Aion, an NEV subsidiary of Guangzhou Automobile Group.
China's cumulative NEV production exceeded 5 million units in September 2020 and 10 million units in February 2022, according to Fu Bingfeng, executive vice-president and secretary general of the China Association of Automobile Manufacturers (CAAM).
The second 10-million mark was crossed just 17 months later, Fu noted.
With this record, the NEV sector has entered a new stage of large-scale, globalized and high-quality development after achieving industrialized and market-oriented development, and is becoming an important part of China's modern industrial system, Fu said.
China has issued a series of supporting policies in finance, taxation, integral management and traffic management to spur NEV development. At the same time, Chinese carmakers have developed a number of new technologies and products to grasp the opportunities of market transformation, meeting new consumption demands.
As a result, the country's production and sales volumes for NEVs have both ranked first worldwide for eight years in a row, and Chinese NEVs now make up over 60 percent of the global market.
China has witnessed rapid growth in the NEV market. Last year, nearly 6.89 million NEVs were sold in China, up 93.4 percent from a year ago. These autos accounted for 25.6 percent of all vehicle sales in China in 2022, surpassing a goal of 25 percent set for 2025 in a national blueprint three years ahead of schedule.
China's NEV sector maintained a sound momentum for development. In the first five months this year, NEV sales increased by 46.8 percent from a year ago to 2.94 million units, and NEV output totaled over 3 million units, up 45.1 percent year-on-year. During the same period, NEV exports soared 160 percent to 457,000 units.
Breakthroughs have been made constantly in core NEV technologies.
The single-cell energy density of mass-produced power batteries produced by Chinese manufacturers has exceeded 300 Wh/kg, leading the world. New battery grouping technologies, high-nickel and cobalt-free batteries, as well as other new technologies and products, have been put into use.
Drive motors have a peak power density surpassing 4.8 kW/kg and a peak rotation speed of 16,000 revolutions per minute. Besides, the average power consumption per 100 km of pure electric passenger vehicles has been lowered to 12.35 kWh.
The NEV industrial chain is more self-supporting and its risks are better controlled.
China has gradually gained a competitive edge in the development of electric vehicle batteries, motors and electronic control systems, and boasts world-leading technologies of intelligent connected vehicles such as the smart cockpit. Domestically-produced big computing power chips, laser radars and new-gen driver-assistance systems have also been put into use.
China has further sped up its steps in building charging infrastructure.
As of the end of 2022, China had built a total of 5.21 million charging piles and 1,973 battery swapping stations, establishing the world's largest network of charging facilities.
In the January-May period this year, nearly 1.15 million sets of new charging facilities were built. As of the end of May, China was home to nearly 6.36 million sets of charging facilities, up 77.5 percent year-on-year.
"Chinese NEV manufacturers are changing the competitive pattern of the global auto market, seeing an opportunity to reshape the industrial model and build world-class brands," said Gu Huinan, general manager of GAC Aion.
In terms of both technology and market, Chinese NEVs have reached a new transition from quantity to quality, shifting their focus from expanding order sizes to gaining economies of scale, Gu added.
Since 2012, Chinese NEV manufacturers have taken the opportunities in the automobile industry's transition toward electrification, intelligentization, and internet-connected development, promoting technological, product and market innovations to foster new growth drivers.
As a result, a batch of core technologies has been developed, and the total NEV production has risen sharply from 20,000 units at the end of 2012 to 20 million units today.
Like many emerging industries, the Chinese NEV sector also faced a series of major problems restricting its development in its early stage, such as immature technology, high production costs, an incomplete industrial chain and a market that was yet to be formed.
The rapid growth of the sector couldn't have been achieved in such a short time of 11 years without China's institutional and market advantages, the efforts made by both the supply and demand sides, as well as the synergy between policy and market.
"Over recent years, relevant departments have rolled out some 70 policies to support the NEV industry, which helped build a complete and synergetic industrial system, fostered the world's largest auto consumption market, and enhanced win-win cooperation between the NEV sector and relevant industries, contributing China's wisdom to promote the electrification transformation of the global automobile industry," said Xin Guobin, vice minister of the Ministry of Industry and Information Technology.