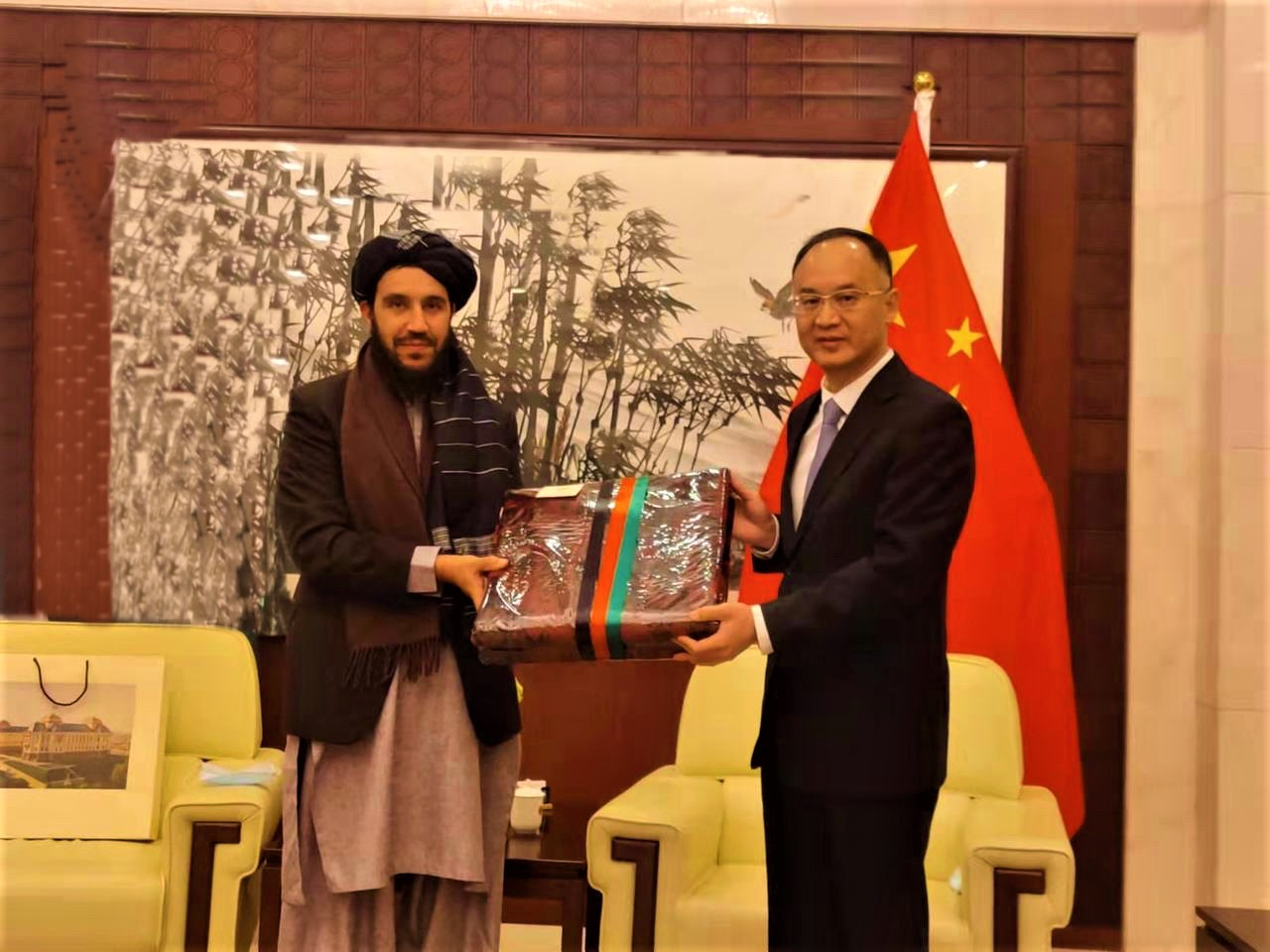 Chinese, Afghan
envoys discuss
Afghanistan
Afghanistan can also benefit from CPEC, Nong Rong tells Sardar Shakib
Special Correspondent
ISLAMABAD.Jan.7 (: Chinese Ambassador to Pakistan Nong Rong and Charge de Affaires of the Embassy of Afghanistan in Islamabad, in a meeting here, discussed the current humanitarian situation in Afghanistan and the expansion of trade activities between their respective countries.
According to Gwadar Pro on Friday, Nong Rong called on Sardar Ahmad Shakib at the Embassy of Afghanistan in Islamabad.During the meeting, issues concerning the increase in humanitarian assistance for Afghanistan and interaction with the Afghan Government came under discussion.
They also discussed the expansion of trade between the two countries and the facilitation of visas and other facilities for Afghan traders.Mr. Shakib presented souvenirs of Afghanistan to Ambassador Nong Rong.
The report added, Pakistan creates a link between China and Afghanistan. The government of Khyber Pakhtunkhwa has already approved Chitral-Shandor CPEC Route, connecting the district with Gilgit and China beyond.
Afghanistan can also benefit from CPEC, as the country has already started using Gwadar Port for transit trade.Amidst looming humanitarian crises, China is one of the countries at the forefront of humanitarian activities in Afghanistan and helping Kabul to rebuild its economy via trade activities.
In September 2021, China announced assistance of RMB200 million materials to Afghanistan. The first batch of aid, mainly including warm materials, arrived in Afghanistan from China on September 29. Humanitarian assistance donated by China is being distributed to needy people in different parts of the country.
Besides humanitarian assistance, China was the first to buy Chalghoza (pine nuts) from Afghanistan to help Afghan farmers in the chronic economic hardships. The first plane carrying chalghoza took off from Kabul and arrived in Shanghai on November 1, which laid the foundation of the "Pine nut air corridor" between the two countries. So far, Afghanistan has sent 10 flights of pine nuts to China and it is interesting to note that 26 tons of chalghoza were sold in China in just a few minutes.