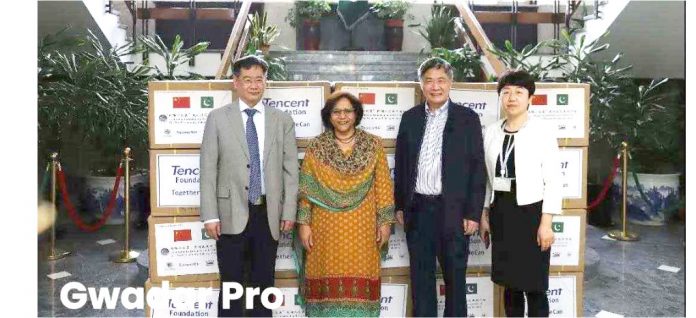 BEIJING, June 8 : China's non-governmental Associations have been on forefront in supporting Pakistan to combat COVID-19, since the epidemic situation deteriorated there.
In order to go through such a difficult time, lots of Chinese non-government associations have donated funds and medical supplies spontaneously.
According to a report published by Gwadar Pro, last month, Beijing Global Talent Exchange Association (BGTEA) has launched a series of activities to finance for Pakistan epidemic prevention.
Through BGTEA's active endeavours, several medical companies donated supplies to Pakistan. Amidst them, Beijing Anngeen Technologies has donated 5000 COVID-19 test kits worth more than Rs. 18.4 million .
Besides, Beijing Shenzhou Hanfang Pharmaceutical Technology has donated 5 therapeutic apparatuses worth 1.5 million Yuan (more than Rs 34.5 million).
China NGO Network for International Exchanges (CNIE) has also given all-out support to Pakistan. According to CNIE's report, there was a supplies handover ceremony held by this organization in Pakistan Embassy in China.
On this occasion, a batch of supplies including 300,000 surgical masks was received by ambassador Mrs. Naghmana Hashmi.
Meanwhile, joining Beijing Dragon Design Foundation, CNIE has initiated "Green Ribbon Action" which builds a connection between global nongovernmental associations. Under "Green Ribbon Action", more than 50,000 masks were donated to Pakistan.
Dr. Atta Ur Rehman, Science and Technology Counsellor, Embassy of Pakistan in China, attended the material handover ceremony and thanked those organizations.
Deputy Director General, China Department, Ministry of Foreign Affairs of Pakistan has taken part in an online conference held by Beijing People's Association for Friendship with Foreign Countries (BPAFFC).
During the conference, Chinese experts have shared their experience in fighting COVID-19. The lecture based on both theories and practices to describe the diagnosis and treatment plan of COVID-19.
China Family Planning Association (CFPA) donated a batch of supplies to Pakistan Family Planning Association (PFPA). Including N95 masks, surgical masks, medical protective clothes and infrared thermometers, this batch of supplies are worth more than 11.5 million Rupees.
Xinjiang Region has continued to provide assistance to Pakistan in fighting against the epidemic. In May, Xinjiang Merchants Charity Foundation (XMCF) collected more than 100,000 masks and more than 1,000 protection suits to support Pakistan. This batch of supplies already reached Gilgit-Baltistan Province. A principal, Xu Aijie said that if Pakistan needs more in future, we will continue to donate.
Besides Xinjiang, Chongqing city is on the move as well. Chongqing Federation of Industry and Commerce (CFIC) has organized private enterprises and Guangcai Foundation to help Pakistan.
A total of 11 enterprises donated 60,000 masks, 27 pieces of liquid disinfectant, 50 pieces of disinfectant powder and 400 medical gloves. Guangcai Foundation has provided 40,000 masks which arrived in Hyderabad last month.
Responding to kindness from all walks of life in China, on June 3rd, The President of Pakistan, Dr. Arif Alvi met with a group of Chinese army medical experts at the presidential palace.
The President expressed his gratitude to China's medical assistance and support to Pakistan in the hour of need during COVID-19 outbreak.