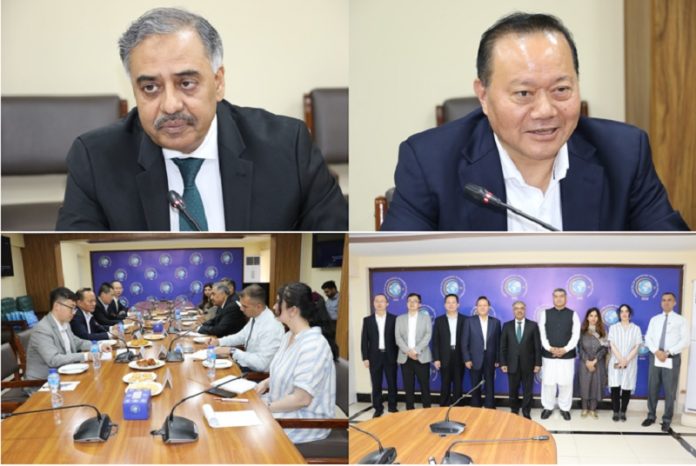 The China-Pakistan Study Centre (CPSC) at the Institute of Strategic Studies Islamabad (ISSI) hosted a 4-member Chinese delegation led by Mr. Yuan Jianmin, Counsellor of Xinjiang Autonomous Region Government. The delegation included Mr. Liu Zongyi, Secretary of China South Asian Study Centre, Shanghai Institute of International Studies; Mr. Wang Shida, Deputy Director of South Asia Studies, China Institute of Contemporary International Relations (CICIR); and Mr. Li Jingfeng, Associate Professor, Sichuan Academy of Social Science.
The wide-ranging exchange of views covered the evolving global environment, developments in major-power relations, impact of 'Indo-Pacific' strategy on South Asia, achievements during the 'Decade of CPEC', and the salience of Pakistan China All-weather Strategic Cooperative Partnership in international dynamics.
DG ISSI Ambassador Sohail Mahmood, in his introductory remarks, extended a warm welcome to the visiting scholars. He underscored the importance of Pakistan-China relations in the contemporary world and the strategic significance of China-Pakistan Economic Corridor (CPEC) for Pakistan's economic transformation and regional prosperity. He also shared Pakistan's perspective on major-power competition as well as the potential fall-out of designating a South Asian state as 'net security provider.' Stressing that the Pakistan-China strategic partnership was a factor of peace and stability in the region and beyond, DG ISSI Sohail Mahmood underscored the importance of crafting a long-term vision of this relationship as, in the next 25 years, both Pakistan and the People's Republic will be celebrating their respective centenaries.
Earlier, Dr. Talat Shabbir, Director CPSC, in his remarks briefed the Chinese delegation about the structure and functioning of the ISSI. He highlighted the recent events organized by the CPSC and also briefed about the Center's upcoming activities. Dr. Talat recalled the recent seminars held jointly by the ISSI-CICIR and ISSI-Fudan University in China, and stressed the pivotal importance of such interactions and dialogues for China-Pakistan bilateral relations.
The Chinese delegates including Mr. Yuan Jianmin, Mr. Liu Zongyi, Mr. Wang Shida, and Mr. Li Jingfeng affirmed the strategic importance of China-Pakistan relations, highlighted the importance of next phase of CPEC, stressed the need for further deepening people-to-people contacts especially among the youth, and vowed to further strengthen institutional relationships between think-tanks of the two countries.