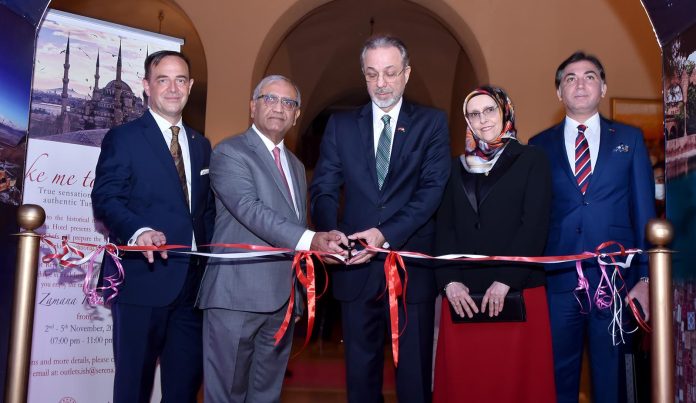 Çirağan Palace Chefs star at
Serena Turkish Food Festival
Staff Report
ISLAMABAD: Serena Hotels hosted Culinary Artists from Ciragan Palace in an elaborate Turkish Food Festival, which was launched on the 1st of November with a fundraising event, which featured the classical trio of talented performing artists, Osman Kirklikçi, on Oud, Şükrü Türkmen on Solfege and Serkan Özdemir on Cello.
The Food Festival was inaugurated for the public on the 2nd by the Ambassador of the Republic of Turkiye Mehmet Pacaci, featuring food by renowned chefs Serdar Ongel, Chef de Cuisine, Davut Kutlugun, Sous Chef, and Yalcin Kokmen, Chef de Partie, from Çırağan Palace Kempinski Istanbuland classical music performances by the talented trios.
Experience a truly Turkish Experience with the 4-day festival held in the Zamana Restaurant, from November 2, 2022, to November 5, 2022,at Islamabad Serena Hotel, is part of the Cultural Diplomacy Initiative, which focuses on creating and cultivating diplomatic ties. Pakistan and Turkiye, share a bond thatdates back to 75 years of friendship and support. This Culinary Arts festival was a collaboration between Serena Hotels and the only 17th-century Ottoman imperial palace and hotel on the Bosphorus, Çırağan Palace, Kempinski, Istanbul.
Ambassador of Turkiye to Pakistan, Mehmet Pacaci appreciated the chefs and musicians who came from Turkyie to promote Turkish culture& cuisineamong Pakistanis and to Serena Hotels for supporting such an event here in Islamabad. It transports Pakistanis to Turkiye, as the Zamana Restaurant is transformed into a Turkish wonderland, to enhance the guest experience of Turkish Culture & Cuisine.
Otto Kurzendorfer, General Manager Islamabad Serena Hotel, said, "Serena is delighted to welcome back chef de cuisine, Serdar Öngel, sous partie, Davut Kutlugün and chef de partie, Yalcin Kokmenfor the fourth year in a row, who are responsible for many of the superb meals at the Çirağan Palace Kempinski in Istanbul. We are happy to work with the embassy of the Republic of Turkiye on their national day and their support in organizing the Fund Raising GalaDinner to raise funds for the flood affectees. An amount of4.6 million rupees were collected from the Gala Dinner, which was hosted an evening before and was well attended by people from all walks of life, including the diplomatic community, corporate sector, and business community whose contribution will help provide relief for the flood affectees.
The Turkish Food Festival at Zamana Restaurant in Islamabad Serena Hotel is a constant that used to be held yearly, until COVID-19, and has been revived again to enhance cultural exchanges between Pakistan and Turkiye, as Pakistan celebrates the National day of Turkiye deepening bonds between the two Nations.