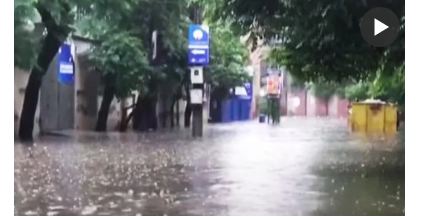 LAHORE: The city administration in Lahore has been put on high alert to deal with possible emergencies as intermittent spells of heavy monsoon rains have once again started battering Punjab's most populated city on Saturday.
Day in the provincial capital broke with a cloudburst across the city which inundated the roads and low-lying areas, bringing life to a flooding halt.
The citizens waded through the streets and roads flooded with rainwater across the provincial capital.
Punjab's Water and Sanitation Agency (WASA) said that it poured down the most, up to 201 millimetres in the Gulshan-e-Ravi area of Lahore.
Meanwhile, 195 millimetres of rain were recorded in Air Port, 193 millimetres in the Tajpura SDO Office area, and 190 millimetres in Nishtar Town.
As the rain battered the city, at least 70 feeders of the Lahore Electric Supply Company (LESCO) tripped, suspending the power supply to several areas.
LESCO spokesperson said that the work for restoring the power supply will be started soon.
Taking notice of the matter, interim Chief Minister Mohsin Naqvi visited different areas of Lahore to inspect the situation after the downpour.
He directed the city administration and WASA to drain the rainwater from the roads quickly while employing all the resources available.
Naqvi also ordered the authorities to increase the number of dewatering pumps installed in the city and stay in the field to address the problems faced by citizens.
Moreover, he also ordered all-out efforts to keep the traffic flowing without disruption.
On Friday, the Met Office said that monsoon currents are continuously penetrating the country from the Bay of Bengal.
A westerly trough is also affecting the upper parts of the country that may persist during the next few days.
It also warned of urban flooding in the low-lying areas of Lahore and other upper parts of the country.