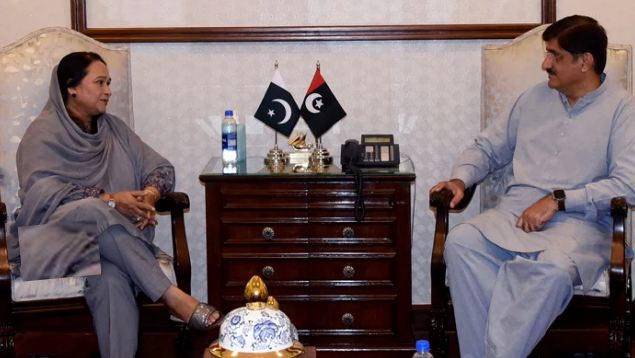 KARACHI: Chief Minister Murad Ali Shah and Leader of the Opposition in Sindh Assembly Rana Ansar held the first round of talks on Saturday to select a name for the caretaker provincial chief executive.
The meeting took place at the Sindh CM House wherein two leaders congratulated each other for the completion of the Sindh Assembly's constitutional term. However, no names were shared by either side for the interim CM.According to a Sindh CM spokesperson, both leaders agreed to meet again tomorrow to discuss the matter.
A day earlier on August 11, Sindh Governor Kamran Tessori signed the summary sent by CM Murad which sought the dissolution of the provincial assembly."The summary of dissolution of Sindh Provincial Assembly has been signed," the governor said in post on microblogging website X, previously known as Twitter.It is pertinent to mention that PPP had discussed the names of Justice (R) Maqbool Baqir and former Sindh chief secretary Mumtaz Ali Shah for the coveted position whereas the opposition had also discussed a few names for the slot which include Dr Safdar Abbasi, Ghulam Murtaza Khan Jatoi, Shoaib Siddiqqui and Younus Dagha.After the meeting, Murad Ali Shah addressed a press conference and expressed his gratitude to the provincial cabinet for its support and for remaining steadfast in the most difficult time."In August 2018, the federal government and the opposition [in Sindh Assembly] took undemocratic measures," CM Murad lamented. "However, PPP and my cabinet supported me. I had a good time in difficult circumstances."He also criticised former prime minister Imran Khan for 'disowning the Sindh government'.
The CM added that the then federal government and the provincial opposition made it difficult to run the affairs of the Sindh Assembly.Furthermore, CM Murad elaborated that if a consensus on a name for caretaker chief minister was not reached with the opposition leader, then the matter would go to the provincial assembly's parliamentary committee. However, if the matter remained undecided in the committee, then the provincial election commission would select the name for the interim chief minister.He added that he would remain in office till a caretaker CM was appointed.Meanwhile, Rana Ansar said that neither she nor the chief minister had shared any name for the caretaker CM position."Sindh Chief Minister said that he is holding discussions with his leadership about the name," Ansar said adding that she was also holding consultation with the opposition parties on the matter.The two will again meet tomorrow.