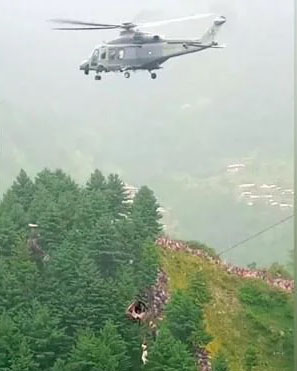 Questions raised about the capability of the administration; institutions to deal with such situations
Shamim Shahid/DNA
PESHAWAR: More than 10 hours after a cable car incident, the Pakistan Army's Special Services Group (SSG) rescued 5 of the eight people — seven schoolchildren and a teacher — who have been dangling mid-air after the cable of a gondola broke in Allai Tehsil in Khyber Pakhtunkhwa's Battagram district on Tuesday.
Two of the children were rescued with the help of an army helicopter. However, rescue operation via copter has been suspended due to darkness and the windy weather. While remaining people were rescued by arranging a mini cable car as the heli operation became impossible due to weather and darkness.The army decided to start a ground operation to save the remaining six people stuck inside the cable car with alternative means.
Another cable car — smaller in size — has been hung on the same cable to retrieve the people. Moreover, the other cable car is also being used to deliver food and water to those stranded.
Moreover, the Pakistan Army has also brought in a local cable crossings expert for help.
Earlier in the morning, the open cable car became stranded halfway across a ravine and was hanging by a single cable after the other snapped, Shariq Riaz Khattak a rescue official at the site told Reuters.
Following the incident, helicopters of the Pakistan Army Aviation and the Pakistan Air Force participated in the rescue operation along with the SSG troops. The rescue mission was complicated due to gusty winds in the area and the fact the helicopter's rotor blades risk further destabilising the lift, said Khattak.
An initial report of the incident said that seven schoolchildren and a local person were travelling in the cable car to go to the Batangi Government High School. According to the report, one cable of the gondola broke at around 7:45am which led to the cable car being stranded mid-air.
The cable car hands at a height of 6,000 feet. Abrar, Irfan, Usama, Rizwan Ullah, Ataullah, Niaz Muhammad, Sher Nawaz and Gul Faraz are stuck inside the lift.
The report said that Battagram's deputy commissioner contacted Hazara's commissioner after he received report about the incident. The DC asked for the arrangement of a helicopter. Moreover, the SSG team based in Kaghan Valley was also contacted after which the helicopter reached the location at 11:45am. Meanwhile, the Pakistan Air Force (PAF) helicopter reached the site at 2pm.
Meanwhile, the incident has not only unmasked the inabilities of the administration to deal with such situations, on the other hand it has unearthed the miseries of people living in the far-off areas. Locals have to adopt such kind of dangerous means of communication in the absence of necessary facilities.
The respective governments do claim to have done a lot for the people or the remote areas but in fact nothing has happened on ground. This is not the first incident that has shaken everybody, many people have already lost their lives in similar incidents.