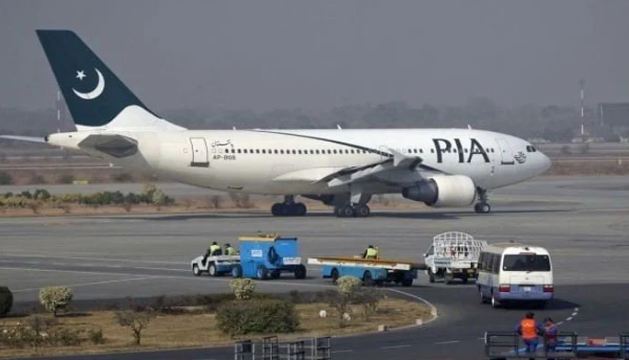 Climate Change Minister Sherry Rehman has said that cyclone Biparjoy, which has slightly moved away from Karachi, has forced the authorities to suspend small aircraft operations in the metropolis.
In a joint media briefing on Wednesday, flanked by National Disaster Management Authority (NDMA) Chairman Lt General Inam Haider Malik, the climate minister shared a recent update on the cyclone Biparjoy.
The climate minister said commercial flight operations would be suspended as the cyclone drew closer to the country.
The cyclone over the northeast Arabian Sea moved further north-northwestward during the last six hours, and now lies near latitude 21.9°N and longitude 66.3°E at a distance of about 340km south-southwest of Karachi, 355km south-southwest Thatta and 275km south-southwest of Keti Bandar.
Rehman said that the cyclone was heading towards the coastline of the country. She added that the winds were blowing at a speed of 140km per hour and all the institutions were working together to ensure that the preparations were being made along with precautionary measures.
The senator said that some 75 relief camps were established and according to the Sindh government, all the individuals were evacuated from the potentially affected areas.
She urged the masses that there was no need to panic as the authorities concerned were vigilant and taking prerequisite measures. Public safety and saving people's lives was the top priority of the government, she added.
The federal minister also requested the masses to stay away from coastal areas and reiterated that this difficulty needed to be faced with courage. She announced that the government would soon issue an advisory regarding small ships.
The NDMA chief said that the Biparjoy might make landfall in Keti Bandar by tomorrow (Thursday) afternoon. He underlined that there was a risk of urban flooding in the areas of Karachi, whereas some 62,000 people were shifted to safer places.
"After every two hours, cyclone-related information is being shared with the institutions concerned. The movement of small aircraft is being stopped at Karachi Airport, whereas a decision will also be taken soon regarding commercial planes," he added.
The NDMA chairman said a data bank of the relocated population was also compiled, adding, "If more areas are submerged, another phase of migration will follow," he said.
He informed that the orders were issued to immediately stop flights of small aircraft while a decision regarding commercial flights would be taken in the meeting to be held in the evening.