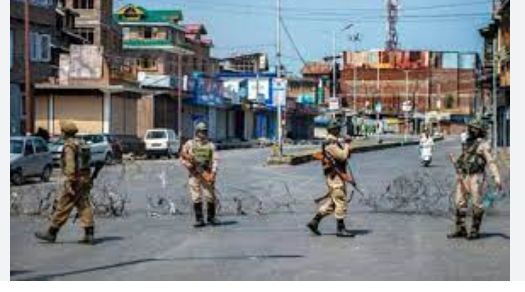 ISLAMABAD, FEB 10 (DNA) — In Indian Illegally Occupied Jammu and Kashmir (IIOJK), complete shutdown will be observed on Saturday (tomorrow) to mark the 39th martyrdom anniversary of prominent Kashmiri leader, Muhammad Maqbool Butt.
According to Kashmir Media Service, a call for the shutdown has been given by All Parties Hurriyat Conference (APHC) and Jammu and Kashmir Liberation Front (JKLF). Muhammad Maqbool Butt was hanged by India in New Delhi's Tihar Jail on 11th February 1984 for his leading role in the Kashmiris' ongoing freedom movement and was buried in the premises of the prison.
The APHC leaders paying rich tributes to Muhammad Maqbool Butt, maintained that the martyrs were the real asset of the Kashmiris' freedom struggle against Indian yoke. They said the Kashmiri people will not allow the sacrifices of their martyrs go waste and will accomplish their mission at all costs.
They said despite resorting to the worst state terrorism of the last over seven decades, India has not succeeded to force the Kashmiris to give up their just struggle for securing their right to self-determination. Posters appeared in different areas of IIOJK asking the masses to observe complete shutdown, will be displayed at all major points tomorrow.
The posters pasted on walls in Srinagar and other areas of the occupied territory and circulated on social media by various Hurriyat organizations maintained that the Indian brutalities cannot intimidate the Kashmiris into submission.
On the other hand, on behest of the Narendra Modi led fascist Indian government, Twitter has blocked the official handle of the All Parties Hurriyat Conference as it was making the world aware of the grim situation of Kashmir.
The APHC spokesman in a statement strongly denounced the move and said such actions cannot stop the Kashmiris' voices from reaching the outside world. In Islamabad, the APHC AJK chapter organized a seminar at its office today to remember prominent martyred Kashmiri liberation leaders, Muhammad Maqbool Butt and Muhammad Afzal Guru on their martyrdom anniversaries.
 Addressing the seminar presided over by the APHC-AJK Convener Mehmood Ahmed Saghar, the speakers said India will not succeed to suppress the Kashmiris' resolve for freedom through extrajudicial executions, illegal detentions and other brutal tactics.=DNA