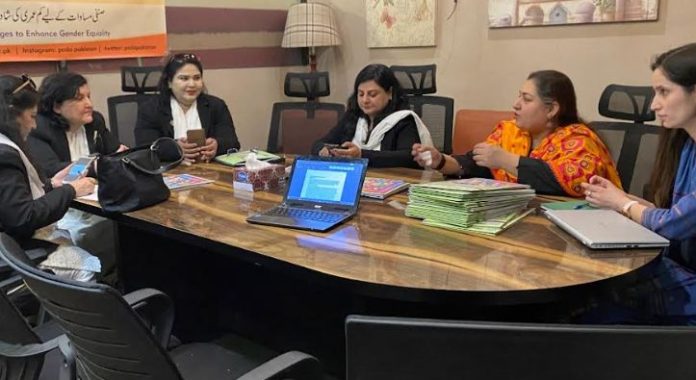 DNA
Lahore, MAR 28: In a meeting connected with International Women's Day held in Lahore, the lawyers demanded the government to bring amendment in the Child Marriage Restraint act 2015 of Punjab to make provision of the Computerized National Identity Card mandatory for marriage.
The meeting was organized by Potohar Organization for Development Advocacy under its project "Reducing Early Age Marriages to Enhance Gender Equality" supported by Royal Norwegian Embassy in Pakistan.
PODA is a women's rights organization working for women's social, economic and political empowerment specifically of rural women whose voices are missing altogether in the media and at policymaking level as well.
Hira Imam, the representative of the host organization, PODA provided a brief of the project that is focused on ending early age marriages. She told the audience that with the support of the people from the grassroots level that is connected with the amendment in law , PODA is striving hard to reduce and ultimately end early age marriages which is clearly violation of a girl child.
The meeting was attended by Advocate HifzaBukhari, Finance Secretary of Supreme Court Bar Association Pakistan, Advocate RabiaBajwa, newly elected Vice President of the Lahore High Court Bar Association, and Advocate SabahatRizvi, the newly elected GeneralSecretary of Lahore High Court Bar Association. AdvocateSabahatRizvi is the first-ever female General Secretary elected for the LHCBA since its inception in 130 years.
The lawyers urged the legislators of four provinces to extend coordination on reducing early marriages to bring harmony in the law as after 18thAmendment, it's the responsibility of the provincial assemblies to address the problems linked with early age marriages in the best interest of the people.
Advocate HifzaBukhari while presenting a provincial comparison of marriage laws shared that only Sindh has a minimum age of marriage of 18 years for both boys and girls. Balochistan, KPK, and Punjab have the minimum age of marriage for girls 16 years, and for boys 18 years.
Advocate RabiaBajwa, Vice President of the Lahore High Court Bar Association said that parliamentarians should be mobilized to bring legislative amendments, and media houses should also be engaged to create awareness to change social norms and culture to support legislative amendments. She applauded the role of PODA for making efforst while adopting multipronged approaches.