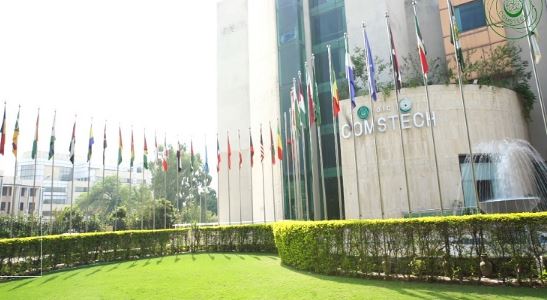 Islamabad, June 3 /DNA/ – COMSTECH inaugurated two weeks long comprehensive virtual training on Geographical Information System (GIS) and Satellite Remote Sensing: Application for Natural Hazards, Land Cover and Water Resources on May 30.
The training was organized in collaboration with International Islamic University in Uganda, National Centre of Excellence in Geology, University of Peshawar and Department of Forestry, Shaheed Benazir Bhutto University, Dir Upper.
The objective was to develop the participants' basic knowledge of space technology and GIS and to be able to acquire free resources of satellite data and open access software to further enhance the capacity and apply that in their field of interest.
Prof. Dr. Mohammad Shafiq from the National Center of Excellence in Geology, University of Peshawar said in his opening remarks that the space sciences and geographical information system are emerging technologies. The application of these technologies include monitoring, management of natural resources, urban and regional planning, governance, and defense. He said the application of space science is expanding tremendously. He said that the capacity of developing countries is not adequate to fully utilize the space technologies to contribute in the socio-economic development. He stressed the need of basic training and capacity enhancement of young researchers so that they can fully utilize these technologies for the benefits of their countries.
Prof. Dr. Ismail, Rector Islamic University, Uganda said in his address that I am delighted to be the part of this event jointly being organized by IUIU and COMSTECH. He encouraged informal communication with open mindedness among the experts of different fields and said such communication lead to the practical projects and initiatives. He said that education is to know the skill and attitude and apply that in your daily life, and this is all about capacity building.
The Coordinator General COMSTECH said that this event is part of OIC Africa Program. Several programs under different thematic areas going to be held under the OIC Africa program for the capacity building of Africa with the emphasis on least developed countries. In the next phase in-person trainings would be conducted in different African member states of OIC.
The training comprised upon one-hour lecture and two-hours computer based practical training session on the data and software of space technology and their application, each day. The lectures and practical training was conducted by national and international experts working in the fields of GIS and remote sensing.
More than hundred students, researchers and scientists from around the OIC member states particularly from African region attended this training. This two weeks training course will conclude on June 9.