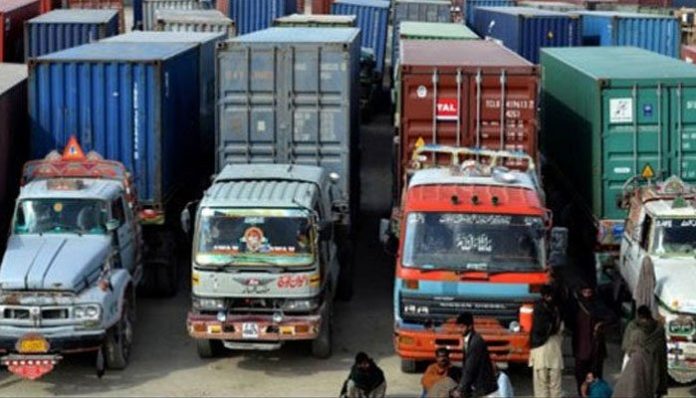 KARACHI: While the provincial governments have relaxed certain restrictions to ensure smooth supply of essential items in the country, truckers, however, are facing problems on the highways, The News reported Tuesday.
According to the report, goods transportation activities have declined by 80% as hostelling and workshop facilities on highways remain suspended amid the lockdown.
Transporters and retailers complain of various issues arising out of the health crisis, from lack of basic facilities on highways to rising transportation prices, as well as a labour shortage.
Read also: Poultry sales, prices fall more than 50% amid coronavirus lockdown

Prime Minsiter Imran Khan has pointed this out multiple times that the extreme measures taken by the governments would affect the supply chain and adequate measures should have been taken before lockdown to make sure that this doesn't happen.
Karachi Goods Carrier (KGC) President Rana Muhammad Aslam said the government had exempted goods transportation from lockdown, but basic facilities needed on highways were not being provided. "Drivers are complaining of not having food and workshop facilities on highways." Thus, he added there were chances that transport would be squeezed further.
If the government wanted a smooth supply of eatables, it would have to ensure that the needed facilities were available along the highways, he added.
Inter-district and inter-provincial goods fares have decreased by more than 30%. "Fare has dropped to Rs100,000 from Rs130,000-Rs140,000 from other provinces to Karachi," he said. "In order to encourage transporters, the government should ensure all facilities on highways for drivers."
He also complained that police personnel deployed near Port Qasim and at other entry points were harassing transporters and were charging bribes. "Port to port transport in Karachi is suffering from police harassment, which is delaying deliveries," Aslam claimed.
He urged the authorities to order its different departments, not to harass transporters. The KGC president also pointed out that the lockdown had resulted in a shortage of workers, which was in turn affecting the availability of transport and its cost.
Read also: Agricultural supply chain to be exempted from coronavirus lockdown in Sindh
Goods transporters were allowed to transport eatables, including sugar and pulses, but other non-eatable goods including textile material were not allowed.
"If goods transport is allowed to run smoothly, food security issue will not arise," he said. "Now transport from Punjab is coming for export. A lot of retail material used to come in, which is not allowed for now."
On the other hand, retailers in the city said that local mazda and pick-up drivers had increased the fare in the city by around 50%. Due to workers' shortage, the transport was also in short supply, and drivers increased the fare to Rs1,600 per trip. Earlier, the rate was Rs1,000-Rs1,200 a trip from in the city, a shopkeeper said.