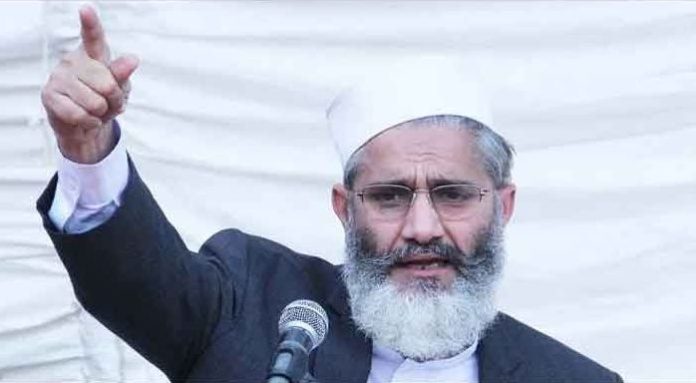 FROM QAZI SHOAIB KHAN
DNA
ATTOCK (FEB-27): Ameer Jamaat e Islami Siraj ul Haq while expressing his considered views on the political and financial imbroglio of Pakistan has said that the corrupt rulers dragged the economy of the country into a darkness of default like situation with alarming rate of corruption of more than Rs: 12 billion daily embracing shackles of IMF loan on the hands of our innocent children.
He was addressing the gathering of Jamaat e Islami here in Attock. He said that the prevailing crisis was arisen due to the hidden snakes of our own country instead of our external opponents. Lashing out the anti-democratic policies of the PML(N) Alliance and previous tenure of PTI Mr. Sirajul Haq said that more than Rs.4000 billion were still made available in the personal accounts of judges, bureaucrats and army general and politician while the present rulers were sucking the blood our poor people for a loan of Rs.170 billion despite the fact that our bureaucracy, economy, trade and even journalism were also indebted.
Ameer Jamaat e Islami Mr. Sirajul Haq said that the grading of the Pakistan Passport reached at the number of 124 among 128 countries putting the good repute of the country at stake by these corrupt rulers. He said that Zardari, Malik Riaz, Bilawal, Nawaz Sharif, Shahbz Sharif were low tax payers as compare to the tax of a security guard working in market of Attock. He said that people of the country were forced to stand by in que to get subsidized wheat flour while Pakistan was full of all kind of natural resources and agricultural based country with the grace of Allah Almighty.
He urged upon the rulers to strictly observe austerity measures ignoring luxurious life style besides keeping the span of cabinet cut short to save the national exchequer. He said Pakistan was leading towards an historic revolution in the days to come, he added.