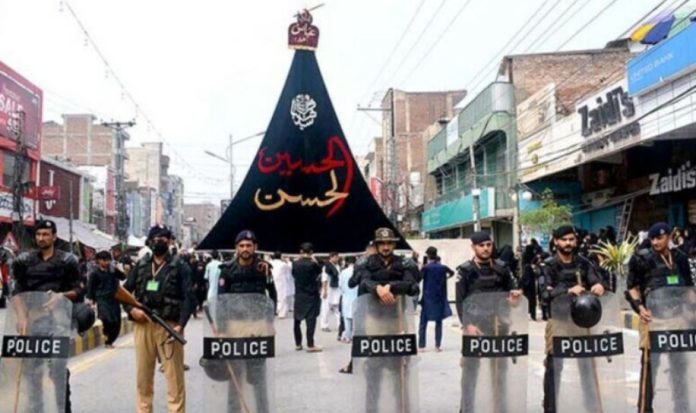 Muharram 9 mourning processions, taken out across the country, concluded on Monday amid strict security arrangements, with mobile phone services suspended in some areas under a comprehensive security plan devised by law enforcement agencies to prevent any untoward incident.
The Sindh government last week imposed a ban on the use of helicams or drones for video recording by media channels during processions and majalis from Muharram 8 (Aug 7) to 10 (Aug 9).
Similarly, the administration in Islamabad imposed an emergency in all hospitals of the capital whereas 2,200 police officials had been deployed during today's procession.
Peshawar police cited serious security threats to processions. However, they said all-out measures to ensure complete security cover to the procession had been taken.
Karachi
The main procession in the metropolis commenced from Nishtar Park this noon, going through Mehfil-i-Shah-i-Khorasan and end at Hussainian Iranian Imambargah in Kharadar.
South-Zone DIG Sharjil Kharal told Dawn.com that the procession ended peacefully by 8pm with no untoward incident being reported from any area.
According to a Sindh police spokesperson, as many as 5,313 policemen had been deployed for security and monitoring of the main routes of the central procession. Snipers of the Special Security Unit had also been deployed along procession routes.
The spokesperson added that 1,000 traffic policemen had been deputed to ensure the smooth flow of traffic on alternative routes/roads.
The Sindh Police also urged citizens to keep a strict vigil on suspicious people and inform the police through its helpline in case of any emergency.
Earlier, Sindh government spokesman Murtaza Wahab also visited the Central Police Office along with provincial ministers Sharjeel Memon and Saeed Ghani to oversee the monitoring of the processions.