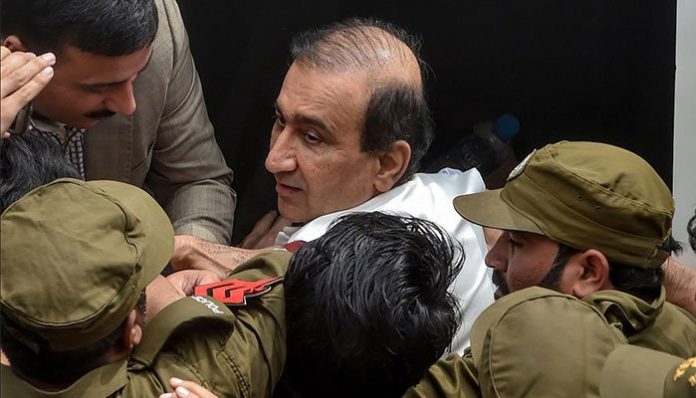 LAHORE: An accountability court on Tuesday granted seven-day transit remand to Editor-in-Chief of Jang Geo Media Group Mir Shakil-ur-Rahman to attend the funeral of his brother, Mir Javed ur Rahman, chairman, printer and publisher of the JangGroup, who passed away the same day.

Earlier, the National Accountability Bureau (NAB) had said it would allow MSR to see his critically ill brother as a 'humanitarian gesture', but the allowance was made conditional to court approval which was not secured in time.
Mir Javed Rahman passed away early Tuesday morning at a private hospital in Karachi after a battle with lung cancer.
MSR's counsel had pleaded to the court for grant of seven-day transit remand, to which the NAB prosecutor did not object.
The application to attend and arrange the burial rites of his brother in Karachi was accepted by Accountability Court judge Jawadul Hassan on humanitarian grounds. However, the judge wrote in his order that the NAB authorities would take all necessary measures at their own risk and cost.
The order said Mir Shakil-ur-Rahman should be produced without fail on his next remand hearing going to be held on April 7.
LHC directs NAB to submit new response
During the last hearing on March 30, the Lahore High Court had directed the Bureau to submit a new response regarding a bail petition filed on behalf of MSR.
In a previous hearing, the court had asked NAB to submit clause-wise explanations to the questions raised by the court. The NAB prosecutor had submitted a response to the original petition in the March 30 hearing.
During the hearing, Barrister Aitezaz Ahsan had presented arguments on behalf of MSR, stating that NAB had summoned MSR on March 3, along with documents.
"NAB had then [on March 3] adjourned the proceedings until March 12," he said, adding that his client had asked the bureau to hand him over the questions.
Upon appearance on March 12, the arrest warrants of MSR were issued from Karachi while the investigation was being carried out in Lahore, said the lawyer.
While referring to the extension in MSR's remand, Ahsan had noted that the accountability court did not mention the reasons behind the decision.
The LHC had, subsequently, adjourned the case until Thursday while asking NAB to submit a fresh response.