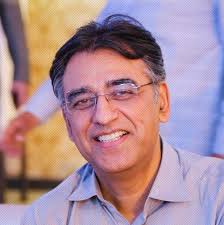 ISLAMABAD : Federal Minister for Planning and Development Asad Umar has said that mini smart lockdown has been re-imposed in Karachi, Islamabad and Azad Jammu and Kashmir (AJK) after surge in the number of coronavirus cases.
Asad Umar in his tweet said that coronavirus cases have been increased by two percent as compared to last week.
Local administrations have been directed to ensure protective measures to curb the spread of this deadly disease, he stated. "Success cannot be achieved without the cooperation of the masses."
Meanwhile, Pakistan has reported 12 more coronavirus-related deaths during the past 24 hours, pushing the overall death toll from the disease to 6,570.