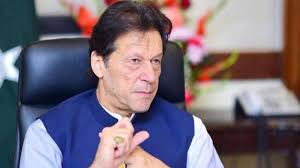 ISLAMABAD : Prime Minister Imran Khan is addressing a session of the National Assembly on the COVID-19 pandemic.
Addressing criticism by opposition parties that the prime minister and his government was 'confused' on how to react to the pandemic, he issued a challenge to detractors.
"I want to challenge you to point out a single contradiction in my statements since we imposed the lockdown on March 13," he said.
PM Imran reiterated that Pakistan's population density, circumstances and economic conditions were different from Wuhan City, Singapore and New Zealand.
The prime minister said that ever since the pandemic broke out in Pakistan, his government faced a lot of criticism for not imposing a complete lockdown across the country.
He said that provincial governments criticised him and said that a stricter lockdown should have been imposed. The premier said that if Pakistan followed the lockdown policies of the western governments then it would mean difficulties for the poor.