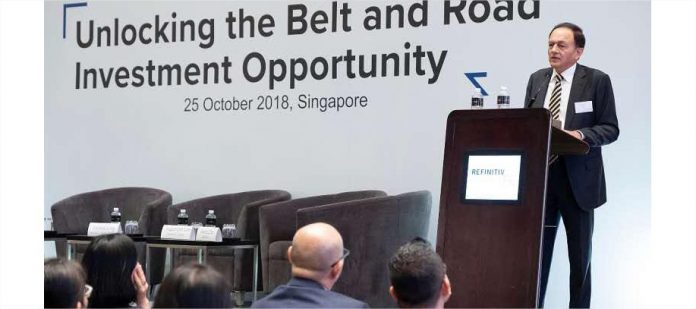 ISLAMABAD, JUNE 9 (DNA) = "CPEC represents a very good opportunity for Pakistan to get out of its economic malaise, said Yaseen Anwar, former Governor of the State Bank of Pakistan (SBP).
He had it stated while answering how he perceived skeptical voices against CPEC (China-Pakistan Economic Corridor) at a Salon, Gwadar Pro reported on Tuesday.
The Salon themed "BRI and the World Economy amid COVID-19" was held last month by International Monetary Institution (IMI) aimed to probe into the impact of COVID-19 on the financial and economic landscape of the world.
Anwar who was a keynote speaker on the occasion said,
"Because of prevailing uncertainty from the coronavirus, severe disruption of the supply chain, and the market correction at the end of March, BRI's importance has been elevated even more. "
As per data presented by Anwar, the shortage of power in Pakistan impaired its GDP growth rates by up to 3%. The absence of a developed transportation network for refrigerator trucks for the distribution of agricultural products results in a 50% loss of perishable products in Pakistan. "Without power plant, the engine for manufacturing and other industries, Pakistan would continuously be played with a depressed state."
Back in 2011, Pakistan's rating was not adequate to tap the euro-bond markets at a low rate of funding and suffered from the aftermath of the 2008 financial crisis.
In that condition, Anwar, as the then governor of SBP, worked to sign a currency swap agreement with ICBC Industrial and Commercial Bank of China), which filled up the gap of over $2 billion in the current account of the time, and staved off the default to not only outside creditors but also to the IMF and World Bank.
Therefore, Anwar said, BRI's finance for infrastructure projects in poor countries that don't have access to other bond markets is significant. The investment will help boost urbanization and help poor countries come up with the curve for income equality which has got a wide gap right now, and improve their livelihoods.
"The second area of increased importance tied to climate change is BRI's emphasis and priority on the development, issuance and usage of the Belt and Road Inter-Bank Regular Cooperation Bonds ("BRBR" bond)."Anwar added.
BRBR bonds are mainly used for projects on renewable energies, low carbon emission transportation, energy efficiency, sustainable water and waste-water management. It fits in with Green Investment Principles (GIP) launched in 2018 by the UK and China as a finance first initiative to ensure that environmental friendliness, climate resilience, and social inclusiveness are built into new investment projects in BRI. All major Chinese banks now are also supporting this BRBR concept.
The intra-regional trade will gain momentum immensely by the infrastructure needs in the next couple of decades, and there are already signs of it.
Anwar gave a touch on financial technology as another solution. He deemed technological innovation in payment was good for consumers but warned that banks must keep pace with the risk landscape without compromising financial inclusion.DNA
==========