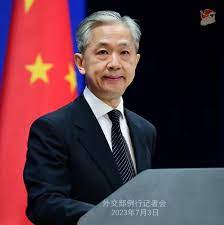 BEIJING, Jul 6 (DNA):The China-Pakistan Economic Corridor (CPEC) is a signature project in cooperation between China and Pakistan in the new era and a pilot project of the Belt and Road Initiative (BRI) launched by Chinese President Xi Jinping a decade ago, Chinese Foreign Ministry Spokesperson, Wang Wenbin said on Thursday.
"CPEC is a signature project in China-Pakistan cooperation in the new era and a pilot project in the Belt and Road cooperation. This year marks its 10th anniversary," he said during his regular briefing in response to a question asked by APP.
Prime Minister Shehbaz Sharif, while addressing a ceremony to mark a decade of the signing of the CPEC framework, said that the CPEC has been playing a pivotal role in transforming Pakistan's economic landscape and the mega project helped Pakistan progress in the region and beyond.
The spokesperson said that with the CPEC as the center, the two sides have established a cooperation framework with ports and transportation infrastructure, energy and industry.
The project has been flourishing and generated a large amount of direct investment, created many jobs and brought highways and power generation and transmission infrastructure to Pakistan and contributing to the country's development and regional connectivity, he added.
Wang Wenbin said the two countries are also cooperating in agriculture, science, technology, information technology and social wellbeing.
"Going forward, we will continue to work for the high-quality development of CPEC and contribute to China Pakistan and regional development," he added.
It may be mentioned here that CPEC enters a significant milestone as it celebrates a decade of remarkable achievements in fostering economic growth, infrastructure development and regional connectivity.
Launched in 2013, CPEC is a corridor linking the Gwadar port in southwestern Pakistan with Kashgar in northwest China's Xinjiang Uyghur Autonomous Region, which highlights energy, transport and industrial cooperation.