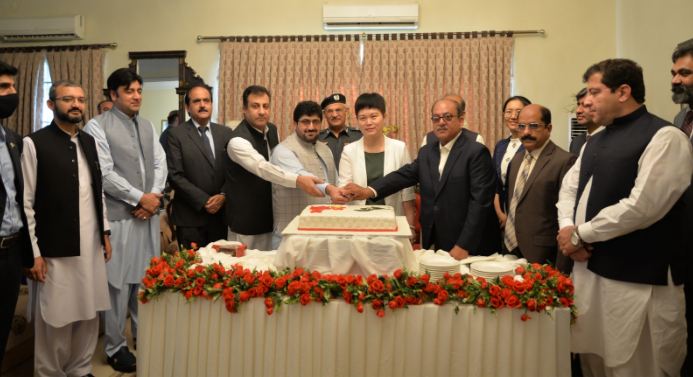 Islamabad: AUG 8: /DNA/ – Sino Pakistan Friendship is ever-lasting, and China always values Friendship with Pakistan. CPEC being a flagship project of President Xi Jinping visionary Belt & Road Initiative is very important for scio economic up left of global community of countries. China always believes that sharing furits of its prosperity with neighbors and other continents will enhance global prosperity and speed up international economic development activities. Chinese Charge d Affairs in Pakistan Madam Pang Chunxue was speaking at a BRI/CPEC 10th Anniversary special event organised by Pakistan-China Friendship Association Khyber Pakhtunkhwa Province at KP House Islamabad this afternoon.
She, while speaking on the occasion, commanded the role of Friends of China in various walks of life and appreciated PCFA-KP initiatives. She also mentioned that President Xi Jinping's special envoy Chinese Vice Premier visit to attend to the celebrations shows the importance of this project in the eyes of Chinese leadership. She also stressed more economic activities to enhance both countries' relationships and new heights for both nations and regions. Earlier KP Minister LGE& RDD Adovcate Sawal Nazir while while speaking on the occasion said that Pakistan Economic Corridor commonly known as CPEC being a flagship project of BRI a idea to share the prosperity amoung Friends and around globe by visionery Chinese President Xi Jinping since 2013, we Pakistani as a iron brother will be benifited with the multi billion dollars projects over the period of time, this was stated by Adovcate Sawal Nazir KP Minister for LG&EDD at a cake cutting ceremony orgsnised by Pakistan-China Friendship Association Khyber Pakhtunkhwa at KP House Islamabad this afternoon.
The Minister stressed that we should learn from Chinese experiences in all fields of daily life for the betterment of our nation. PCFA-KP Secretary-General Syed Ali Nawaz Gilani while welcoming Chinese & invited dignitaries informe that Sino-Pakistan relations are now on new heights and their is a great need to further enhance the Understanding China in Pakistan and expand the Peoples to Peoples interaction through all avaiable mediums. In order to further get benifits fir socio economic development, we at Pakistan follow the rules & regulations of China, which help them to bring socio-economic uplift across the nation. While informing about the start up.of PCFA-KP in 1970 as Pak China Students Friendship Association and this Association play vital role in declaration of Peshawar Urumqi & Abbottabad Kashgar sister cities in 1985 and 2007 respectivelly. At the event PCFA-KP distribute shhrilds amoung various leading figures of society in appreciationnof their services for Pakistan-China Friendship various initiatives.