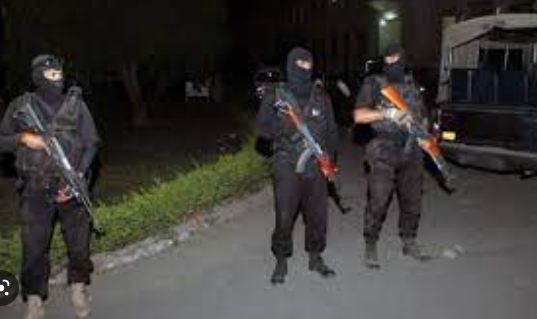 Shamim Shahid / DNA
PESHAWAR—Alleged militants who were under detention are continuing occupation of Counter Terror Department (CTD) of Khyber Pakhtunkhwa police at Bannu on second consecutive day on Monday.
Amidst stand-still in Bannu, reportedly a security forces convoy came under IED attack at Miranshah North Waziristan. There are reports of injuries but so far no any official statement or confirmation issued in this respect.
The militants who were under arrest in CTD compound have reportedly snatched guns from security guards late on Sunday evening and made hostages all of security forces personnel including an officer of armed forces. As a result of primary encounter, one policeman was killed and three other personnel of security forces including a Captain injured. Since Sunday evening, there exists curfew like situation in almost Cantonment areas of Bannu, adjacent to North Waziristan. The compound is surrounded by heavy contingents of military, para military and police personnel. All roads and routes in the area have been closed for traffic and pedestrians as well. University administration announced postponing of Examinations whereas all educational institutions in cantonment areas also shuttered. The civilians residing in cantonment are being directed "not to come out," or "remain inside homes."
The militants soon after disarming and converting the security forces personnel as hostages, demanded safe passage to Afghanistan but from Monday morning they asking for giving them opportunities to enter North or South Waziristan. The banned TTP through a statement confirmed militant's association with it and asked the government to let them to move and enter Waziristan region. The militants who have occupied the CTD Police Station Compound stated from 20 to 25 whereas civilians, locked for interrogation purposes are also stated around 10 in strength. The militants as well as the civilians are sharing video message, demanding of the government for giving safe passage to them.
Bannu facing this situation for second time in last one decade. On the mid night between April 14th and 15th ( in early hours of April 15th Sunday), the militants broke away main gate of Bannu Jail and released 384 inmates including 150 hard core militants like suicide bombers. Amongst the released persons Adnan Rashid, ex-Pakistan Air Force employee charged for involvement in murder attempt against ex-military chief and President Pervez Musharaf. Disappearance of Adnan Rashid is still a mystery.=DNA
========