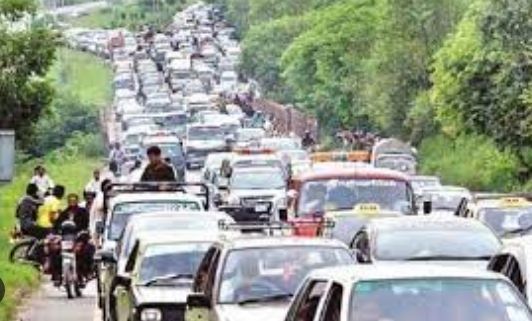 RAWALPINDI, Jun 28 (APP):City Traffic Police (CTP) has unveiled a comprehensive plan to maintain traffic flow and to facilitate the tourists at the hill station of Murree during the Eid holidays.
More than 285 officers and traffic wardens will perform their duties to ease traffic in Murree.
Chief Traffic Officer (CTO) Taimoor Khan said the drivers without licenses and motorcyclists sans helmets would not be allowed to enter in Murree.
"The heavy traffic including buses, and trucks will not be allowed to travel towards Murree while Public Service Vehicles (PSVs) should also have a route permit and fitness certificate," he added.
CTO urged the tourists to avoid wrong parking, double lines, and taking selfies in the middle of the road.
"Pickets have been set up to check the suspects and to ensure the safety of tourists."
"Stern action will be taken against tinted glasses vehicles, without registration, and without number plates, and using blue lights on vehicles," he added.
He said, "The education wing of the City Traffic Police (CTP) will also distribute pamphlets to guide the tourists."