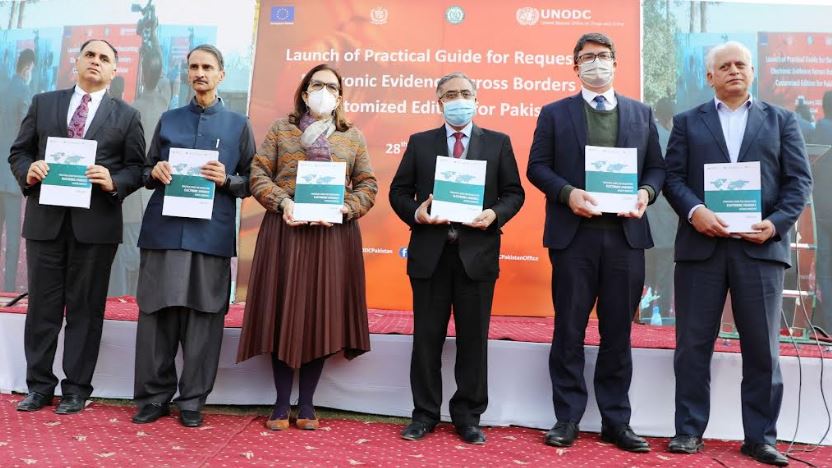 DNA
ISLAMABAD, JAN 28 – UNODC, in collaboration with the Government of Pakistan, launched the "Customized Practical Guide for Pakistan on Requesting Electronic Evidence Across Borders," in a ceremony held at the Ministry of Foreign Affairs, Islamabad, under the framework of a European Union (EU) supported project entitled "Pakistan's Action to Counter-Terrorism" (PACT).
Pakistan was the first country in Asia to partner with UNODC to customize the Global Practical Guide in line with its domestic legal framework and procedures with the aim of providing national and provincial practitioners with necessary methods and skills to access the critical electronic evidence needed to prevent, investigate, prosecute and adjudicate terrorism offences. The customization was a joint venture of UNODC and the Counter-Terrorism Division of the Ministry of Foreign Affairs with input from representatives of the Federal Investigation Agency (FIA), National Counter Terrorism Authority (NACTA), Central Authority of Pakistan at the Ministry of Interior, Sindh Judicial Academy and Counter-Terrorism Departments.
The Director-General Counter Terrorism Division, Ministry of Foreign Affairs Mr. Asim Khan, UNODC Country Representative, Dr. Jeremy Milsom, the Ambassador of the European Union to Pakistan, Her Excellency Androulla Kaminara, Foreign Secretary of Pakistan, Mr. Sohail Mahmood graced the occasion with their presence and addressed the participants.