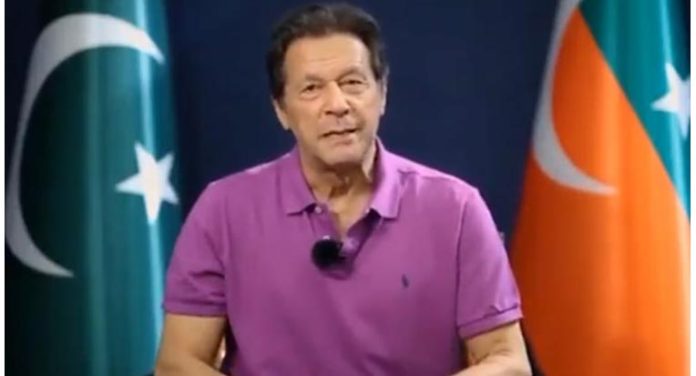 DNA
Urges youth to convey his message of true independence door to door
ISLAMABAD: As the journey of true freedom has now entered into a decisive phase, Pakistan Tehreek-e-Insaf (PTI) Chairman Imran Khan invited the youth to join the "Imran Tigers" in order to convey his message of really freedom door to door.
"Imran Tigers" will be the passionate youth of my country who will take my message to every nook and corner of the country," Chairman PTI added.
Imran Khan further elaborated that his message was the message of true freedom and how they can become an independent and self-respecting nation, as there was a system of ignorance and injustice.
However, PTI Chairman stated that for this, he needed his youth to convey the message of true freedom everywhere.
Explaining the process of joining "Imran Tigers", he said that just send 'Yes' on WhatsApp number 0300-1119444 and become a part of "Imran Tiger" immediately.
He further stated that after writing 'Yes', a website name would appear in the message and register in it.
Imran Khan urged that he wanted all the youth should fully participate fully in it because this would be the first step towards real independence.
"There is a system of injustice and ignorance in the country, as if a poor person steals something, he goes to jail, if a rich person commits robbery, he gets NRO," Imran Khan added.
He said: "Iqbal's Shaheen is the one who breaks chains and flies." However, he said that unfortunately, we have not been able to become an independent nation hitherto.
He expressed the optimism that the journey of true freedom has now entered into a decisive phase to get the true freedom.
Imran Khan went on to say that he also needed dedicated and ideological youth to be present at polling station to stop rigging on election day, as the mafia won the elections through polls rigging.
However, he hoped that God willing, they would rid the country of the mafia despite rigging.