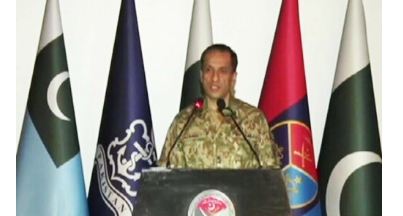 RAWALPINDI, APR 25: Inter-Services Public Relations (ISPR) Director General (DG) Maj-Gen Ahmed Sharif is currently addressing a press conference.
This is Maj-Gen Sharif's first press briefing since his appointment as head of the military's media affairs wing.
At the outset of his press conference, Maj-Gen Sharif said today's briefing would focus on anti-terror operations conducted by the army.
"We will shed light on matters pertaining to security and terrorism in the ongoing year," he said.
The DG ISPR said Pakistan had organised 16 trips to the Line of Control (LoC) in the past few days, which also included the participation of Organisation of Islamic Cooperation secretary general and international media.
"But no such visit was organised by India, which shows that it wishes to hide the reality of the situation in [occupied] Kashmir," he added.
Maj-Gen Sharif said India had violated the LoC ceasefire 56 times in the ongoing year, which included three violations of airspace, 22 incidents of speculative firing, six ceasefire violations and 25 technical airspace violations.
Meanwhile, he added, the Pakistan Army had blown down six quadcopters, asserting that the "Pakistan Army is prepared to [deal with] any such attempts by India".
In the meantime, on the country's western frontiers in Balochistan and Khyber Pakhtunkhwa, terrorists had been trying to destroy peace, Maj-Gen Sharif said, adding that security forces, police and other law enforcement agencies remained engaged in foiling their attempts.
He assured that armed forces remained focused on ensuring border security in Pakistan. "In this regard, Pakistan's forces have taken appreciable measures, tracked down terrorist networks and we continue to do so."
The DG ISPR said the external linkages of banned outfit Tehreek-i-Taliban Pakistan and Baloch militant groups were also proven in terrorism incidents.
Sharing further details, he said 436 terrorist attacks had taken place in the country during the ongoing year, during which 293 people were martyred and 521 injured. In KP, he said, 192 personnel were martyred and 330 injured while 80 were martyred and 170 injured in Balochistan. Meanwhile, 14 were martyred and three injured in Punjab, he added.