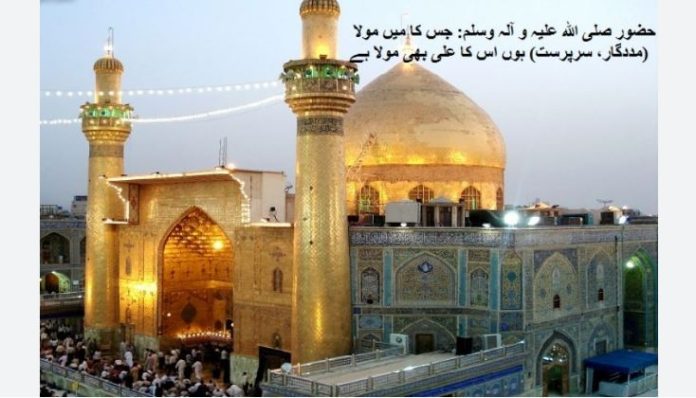 DNA
QAZI SHOAIB KHAN
ATTOCK (APRIL-11); Prominent religious scholars while highlighting the different aspects of the sorrowful martyrdom of Imam Hazrat Ali (AS) here at Imam Bargah Punjtani Attock city said that Imam Ali was born in Kabah who laid his life before the Allah Almighty in Masjid-e-Kufa.
The religious ceremony of Azahdari was held under the auspices of Anjuman -e- Bazm-e-Imam Mahdi (AS) to pay glowing tributes to the martyrdom of Imam Ali (AS) in line with other parts of the Muslim world. Earlier, Majlis Taboot (coffin) of Hazrat Ali (AS) was also brought to mourn the tragic incident with religious fervour. On this occasion, Khateeb Ahle Mohammad Allama Naseer Haider, Zakaar Zeeshan Abas Baloch and Allama Zafar Hussain Zafri in their speeches have also thrown light on the excellent qualities of Hazrat Ali (AS).
They said Imam Ali (AS) was born inside of the Kabah and was martyred in Masjid-e-Kufa during prayer. They said that Imam Ali (AS) got married to the Prophet's daughter Bibi Fatima (AS). Imam Ali holding titles such as Asadullah, Waliullah, Hujjahtullah had also fought many battles include Khyber, Khandaq, Badr, Uhud and others. The speakers said that on the 18th of Ramadhan when Imam Ali was heading towards Masjid-e-Kufa his ducks tried to stop him but he proceeded to go and offer his prayer when he arrived in the Masjid-e-Kufa he saw that an evil man named Abdul Rehman Ibne Muljim was sleeping.
He went over to wake him up after that he went over to offer his Salah when he was in sajood Ibne Muljim went to him with a poisonous sword and struck it on Imam Ali's head But Imam Ali continued his prayer after 3 days on the bed Imam Ali martyred on the 21st of Ramadhan. In their speeches, they said that an english historian also confessed that Islam was the most eminent religion with the remarks that the rule of Banu Umaya could not undermine Hazrat Ali (AS) despite using their power, exchequer ,authority and all resources of communication.
They said that Imam Ali (AS) son of Abu Talib is still ruling over the hearts of the Muslims who will remain live till the day of resurrection. They said that Hazarat Mohammad (PBUM) on the eve of Ghadeer e Khum had raised the hands of Hazrat Ali (AS) saying that 'He of whom I am the Mawla, of him Ali is also the Mawla' (man Kuntumawlahu fa Ali Mawlahu).The speakers further said that no hardships could be faced by the human if he reposed his belief upon Hazrat Ali (AS) is like the belief and confidence of Hazrat Mohammad (PBUH).
The mourning procession of Yom e Ali was lasted amid tight security led by SDPO Attock Raja Fiaz, SHO Attock city Mr. Jahanzeb Khan while other civic arrangements were carried out by Chief Officer MC Attock Sadar Aftab Khan, Chief Sanitary Inspector Mr. AamerAlyas with their squad.