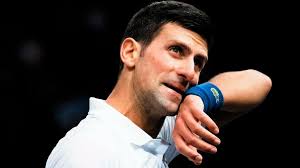 Melbourne, Jan 16 (AFP/APP):Novak Djokovic lost his final bid to avoid deportation from Australia on Sunday, ending a sensational 11-day battle over his Covid-19 vaccination status and dashing his dream of a record 21st Grand Slam.
In a few dry words, the chief justice of Australia's Federal Court, James Allsop, Sunday dispensed with the unvaccinated tennis superstar's attempt to reinstate his cancelled visa.
"The orders of the court are that the amended application be dismissed with costs", Allsop said announcing the unanimous decision, on the eve of the first matches at the Australian Open.
The 34-year-old defending champion and first seed had been scheduled to play in the evening of the first day. If he had retained the title he would become the first men's tennis player in history to win 21 Grand Slams.
Instead, the openly anti-Covid vaccine tennis superstar is now set to be kept in detention pending a quick flight out of Australia.
Three Federal Court justices had listened to a half-day of feisty legal back-and-forth about Djokovic's alleged risk to public order in Australia.
Immigration Minister Alex Hawke said Djokovic's stance may inspire anti-vaccine sentiment, leading some people to face the pandemic without vaccination and inspiring anti-vaxxer activists to gather in protests and rallies.
The player's high-powered legal team had painted Australia's effort to deport him as "irrational" and "unreasonable", but at times they faced pointed questions from the panel of three justices who will now decide the case.
His lawyer Nick Wood sought to systematically dismantle the government's central argument.
Despite the Serbian star being unvaccinated, Wood insisted his client had not courted anti-vaxxer support and was not associated with the movement.
The government "doesn't know what Mr Djokovic's current views are", Wood insisted.