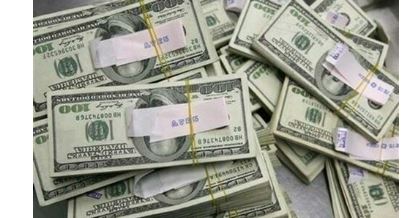 ISLAMABAD: The rupee lost ground against the dollar in the interbank market on Wednesday afternoon after it registered a modest gain in the morning.
According to the Forex Association of Pakistan (FAP), the greenback was trading at Rs202.50 around 12:30pm after gaining 50 paisa against the previous day's close of Rs202. (The FAP's closing rate from the previous session is lower than the official rate of Rs202.83 released by the State Bank of Pakistan).
Earlier in the day, the dollar was trading at Rs201.45 around 11:50am after losing 55 paisa against the local currency.
'End to speculation'
Exchange Companies Association of Pakistan General Secretary Zafar Paracha identified the rejection of reports by the government and SBP about authorities intending to place restrictions on foreign currency accounts as a reason behind the greenback's transient decline.
He further said that Prime Minister Shehbaz Sharif had directed the SBP to take action against banks involved in "satta bazi" (speculation), which had led to a significant decline in the dollar's rate and stabilisation of the exchange rate.
Mettis Global — a web-based financial data and analytics portal — also reported in the morning that analysts had attributed the rupee's recovery to an SBP "meeting with commercial banks on exchange rate destabilisation".
Speaking to Mettis Global, Paracha highlighted that "in its downward journey this fiscal year, the rupee has been facing sharp fluctuations, providing enough room for speculators to maximise their benefits".
FAP Chairperson Malik Bostan also linked the rupee's recovery to the government and the State Bank of Pakistan dispelling reports of expected restrictions on foreign currency accounts.
"Following the dismissal of these reports, satta baz who were manipulating the rupee's decline have stopped doing so and as a result, the rupee has strengthened," he explained.
Moreover, he said the "pressure on rupee has reduced significantly since oil payments have been made".