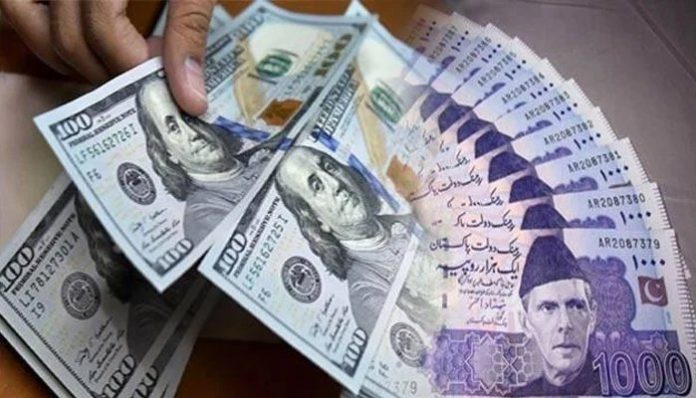 ---
KARACHI: The Pakistani rupee appreciated by Rs2.93 on Thursday morning in the interbank market, a day after Finance Minister Miftah Ismail announced a $2.3 billion loan agreement with a Chinese banks consortium.
The dollar was trading at Rs209 in the interbank market at about 10:44am. The previous day's close was Rs211.93 against the greenback, according to the State Bank of Pakistan (SBP).
The appreciation was in line with the expectations of market analysts who foresaw that the rupee would see a correction today as it was trading at 208-209.50 against the dollar in the TOM (one-day forward) market.
Analysts said that the outlook for the currency is expected to be bullish in sessions ahead given the bright chances of the revival of the International Monetary Fund (IMF) programme, dollar inflows contingent on the IMF into Pakistan, the expected launch of Sukuk by the government, and a fall in the international crude oil prices.
In his comments, Pakistan-Kuwait Investment Company Head of Research Samiullah Tariq said: "I think the rupee-dollar parity should improve as the IMF deal along with the Chinese deposit should improve sentiment in the currency market."
Pakistan and the IMF achieved progress in striking a consensus on the budget measures for the fiscal year 2022-23 and the latter will share a draft memorandum of economic and financial policies (MEFP) very soon. The government is also expecting the multilateral lender to increase the size and duration of the $6 billion Extended Fund Facility.
The country is also likely to receive inflows from China within a few days after Pakistan signed an RMB 15 billion ($2.3 billion) loan facility agreement with a Chinese consortium of banks, as announced by finance minister Miftah Ismail on his official Twitter handle a day earlier.
The expected inflows will help bolster foreign currency reserves and the rupee. However, in case of a delay in the revival of the IMF programme or other negative cues on the economic front, the rupee's advance might be short-lived.
Short-term flows aside, it is difficult to see the rupee sustaining its pullback for long until Pakistan inks the staff-level agreement with the IMF.