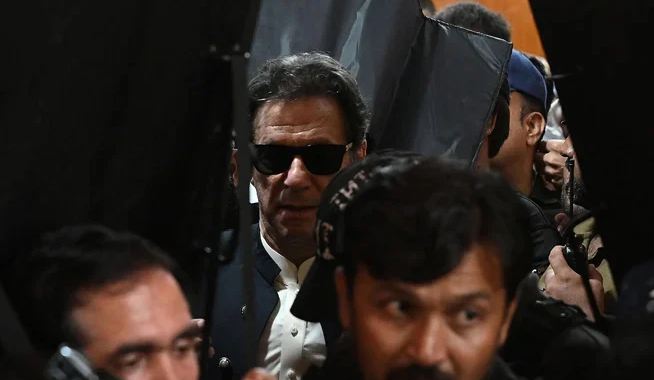 ISLAMABAD: The Election Commission of Pakistan (ECP) on Friday issued the summons to Pakistan Tehreek-e-Insaf (PTI) Chairman Imran Khan for an appearance before it on August 2 for indictment in a contempt case against him and others.
Last year, the top electoral body initiated contempt proceedings against the PTI chief, party's former secretary general Asad Umar and former senior vice-president Fawad Chaudhry for allegedly using foul language against the chief election commissioner.
The PTI leaders have challenged ECP's powers to initiate contempt proceedings under Section 10 of the Election Act 2017 in different high courts.
However, the Supreme Court earlier this year greenlit the ECP's proceedings.
During the proceedings, when the trio failed to appear before the commission despite repeated summons, it issued arrest warrants for Khan and ex-party leader Chaudhary; however, it accepted Umar's plea to be exempted from the last hearing.
Yesterday, the ECP issued the written order for the July 25 hearing stating that the former prime minister will be charged on August 2.
It ordered Khan to ensure his presence at the next hearing for the framing of charges, for using "intemperate" language for the electoral body and the chief election commissioner (CEC).
On July 24, the election commission ordered the arrest of the ex-premier — who is embroiled in a slew of cases since his ouster last April; however, he appeared before the body the next day, resulting in the suspension of his arrest warrants.
The short order stated that Khan's lawyer requested that he did not have the record of the case, the lawyer requested to get the record and prepare the case, this request was accepted and the lawyer obtained the documents from the law wing.
It may be noted that Khan, Asad and Fawad, who is the former aide of PTI chairman have raised the matter in various high courts, arguing that Section 10 of the Elections Act 2017 was "unconstitutional".
Section 10 of the election act states that the "election commission may exercise the same power as the high court to punish any person for contempt of court and the Contempt of Court Ordinance, 2003 (V of 2003), or any other law pertaining to contempt of court shall have effect accordingly[…]".