World s largest electric vehicles manufacturer BYD is all set to enter Pakistan. The announcement was made by Pakistan Electric Vehicles & Parts Manufacturers and Traders Association (PEVPMTA) General Secretary Shaukat Qureshi while talking to local media.
"Toyota, the world auto giant, for the first time signed an agreement on November 7, 2019, to develop Electric Vehicles with BYD, the world's largest electric vehicles manufacturer, with 44 plants around the globe employing 250,000 personals, with turnover of $250 billion," he said. "Scenario will definitely change in Pakistan as well, with the Japanese companies roll out their models by 2024," he added.
As a leading new energy vehicle (NEV) manufacturer, BYD has created a broad range of internal combustion (IC), hybrid and battery-electric passenger vehicles.
BYD s NEVs have ranked No.1 in global sales for three consecutive years since 2015. Developing electric vehicles that are intelligent and connected, BYD is inaugurating a new age of automotive innovation.

BYD Soon !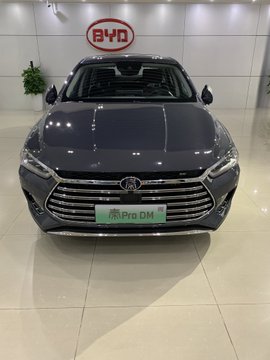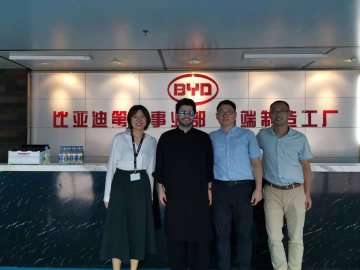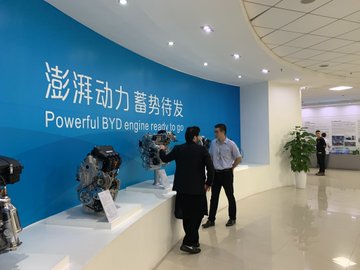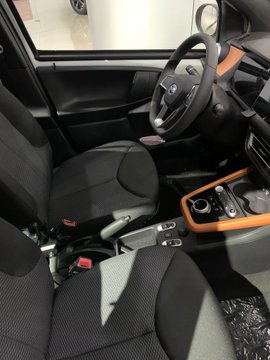 2,0092:38 PM – Nov 30, 2019Twitter Ads info and privacy279 people are talking about this
Adviser to Prime Minister on climate change Malik Amin Aslam has said that electric vehicles will initially reduce import bill by US$2 billion per annum. Terming EV 2019 as best policy in the region, he said that the policy, which had been promulgated recently, would provide cheap mode of transportation, reduction in carbon emission and decrease import bill.
The advisor added that the government would issue SROs related to EV policy, 2019, shortly in order to commence the process of introducing EV in the country.
IMPORT HYBRID CAR WITHOUT CUSTOMS DUTY
Pakistani expatriates around the world may soon be allowed to import one hybrid car to Pakistan — tax free — upon presenting proof of remitting $100,000 using legal banking channels within two years.
The move will not only benefit the overseas Pakistanis but will also help improve foreign exchange reserves in the country, currently facing acute financial crisis.
However, the initiative is still a proposal, prepared by the Ministry of Overseas Pakistanis and Human Resources Development (MOPHRD).
Sayed Z Bukhari✔@sayedzbukhari
In recognition of our #OverseasPakistanis who use banking channels to send money back home,my ministry has proposed to reward them for their contribution to the national exchequer. I will be backing this initiative with full force so in time we can kill the menace of hundi/havala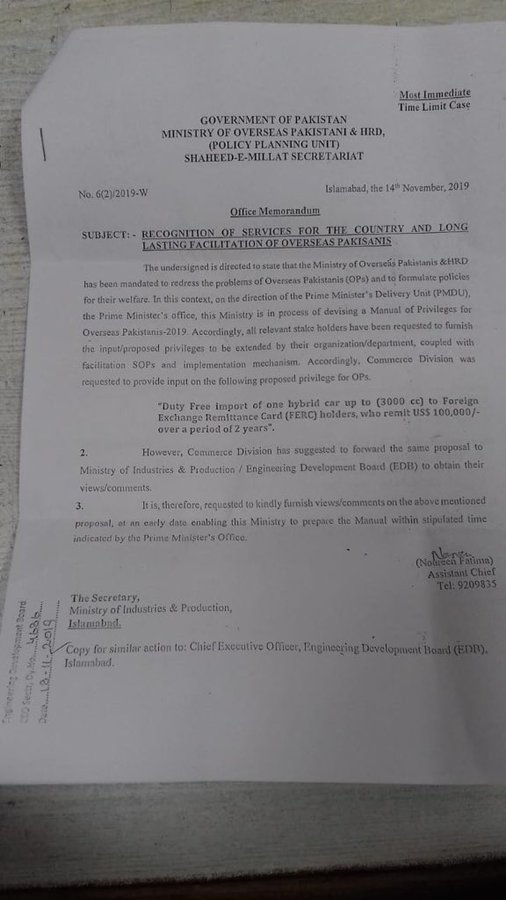 2,6609:35 PM – Nov 26, 2019Twitter Ads info and privacy946 people are talking about this
The Ministry has forwarded the proposal to Ministry of Industries & Production and Engineering Development Board (EDB) for their opinion to formally grant Foreign Exchange Remittance Card (FERC) holders the privilege avail the duty-free vehicle import.