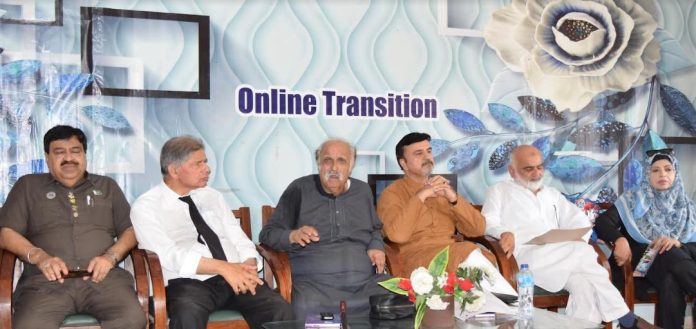 DNA
Rawalpindi, JUN 19 /DNA/ – An English translation of Hazrat Abu Talib's poetry collection "Diwan Abu Talib" book launching ceremony was held in Punjab Arts Council in collaboration with Central Imam Hussain Council.Diwan Abu Talib has been translated by Syed Altaf Hussain Shah, former controller of Radio Pakistan.
The ceremony was presided over by prominent scholar Dr. Ghazanfar Mehdi, Chairman of the Central Imam Hussain Council, while former Chairman of the Pakistan Academy of Letters, Dr. Yusuf Kushk, attended as a special guest.Ms. Kausar Parveen performed the duties of host the event.Addressing the ceremony, Dr. Ghazanfar Mehdi said that the main point of Hazrat Abu Talib's poetry is monotheism and Prophethood. It is important to enlighten the new generation with the achievements of Hazrat Abu Talib.
Former Chairman Academy of letters Pakistan, Dr. YousufKhokhsaid that the translation of Diwan Abu Talib has led to an increase in our literary heritage. Translation of Diwan Abu Talib from Arabic to English was a difficult task, which Altaf Ahmad Shah has done beautifully.
The author of the book, Dr. Altaf Ahmad Shah, said that he has expressed his love for Abu Talib by translating Diwan Abu Talib into English.Hazrat Abu Talib's praise and naat is the golden chapter of our religious studies.Prominent jurist KokabIqbal Advocate said that Hazrat Abu Talib's poetry collection is a clear expression of his faith.Director،Rawalpindi Arts Council Waqar Ahmed thanked the participants. -DNA