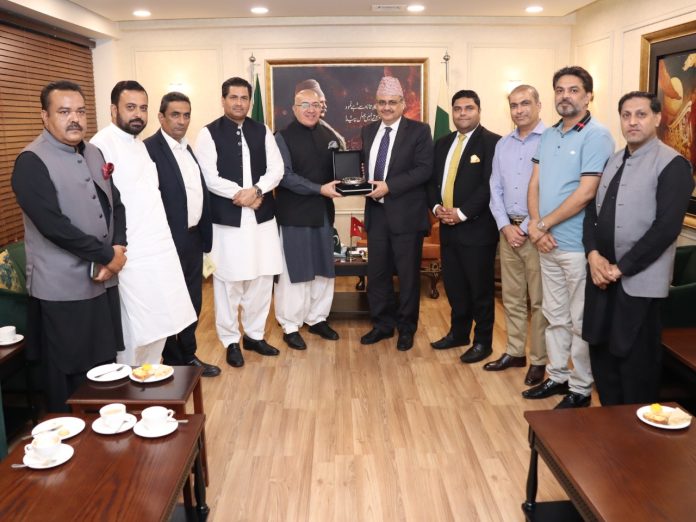 Ambassador Tapas Adhikari visits Lahore Chamber; says huge business potential between the two countries
DNA
LAHORE: Ambassador of Nepal Tapas Adhikari visited the Lahore Chamber of Commerce and Industry (LCCI) and interacted with the President Mian Nauman Kabir and members of the Chamber.
During the interactions, the ambassador highlighted the need to improve bilateral economic relations between Nepal and Pakistan since both countries have great potentiality to cooperate. He further said that the bilateral relations between our countries have always been excellent. As neighboring country, both Nepal and Pakistan are the member of SAARC and have similar cultural and social backgrounds.
The ambassador also shared the historical linkages between Kathmandu and Lahore that Mathabar Singh Thapa, first Prime Minister of Nepal had spent a year exile in Lahore in 19th century. It is also believed that Thapa was first person holding position of Prime Minister in South Asia region.
Ambassador Tapas also shared the Government of Nepal economic policies to facilitate foreign direct investment and invited the Pakistani business persons to visit Nepal for trade, investment and tourism since Nepal has excellent hospitality industry and it is a hub of adventure tourism.
The President of the Chamber Mian Nauman Kabir and members appreciated the visit and information on business opportunities in Nepal. They assured that they will make a program to visit Nepal to explore business opportunities and to interact with Nepali businesspersons. They wished to host Nepali businesspersons in Lahore. They also wished to organise Pakistani trade fair in Nepal to share the information of Pakistani products.