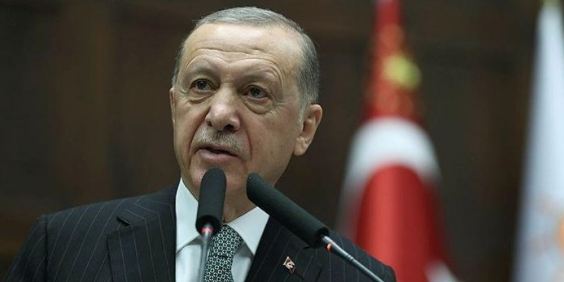 Turkish President Recep Tayyip Erdoğan indicated on Wednesday that elections will be held on May 14, sticking to his previous plan for the vote with a date just over three months after a devastating earthquake killed more than 45,000 people in Türkiye's southern region.
"This nation will do what is necessary on May 14, God willing," Erdoğan said in a speech to lawmakers from his ruling AK Party in parliament.
Following the devastating quakes, there were rumors that elections could be postponed until later in the year or could be held as scheduled on June 18.
Erdoğan previously said May 14 is the "most suitable" date for holding the elections.
Erdoğan promised to heal the wounds of victims of powerful earthquakes that hit the country's southern region last month and claimed more than 45,000 lives.
"Hopefully, we will erase the traces of the Feb. 6 earthquake as soon as possible," Erdoğan said at the Justice and Development (AK) Party's group meeting in parliament.
The magnitude 7.7 and 7.6 earthquakes, centered in Kahramanmaraş, struck 10 other provinces — Hatay, Gaziantep, Adiyaman, Malatya, Adana, Diyarbakır, Kilis, Osmaniye, Şanlıurfa, and Elazığ. Some 13.5 million people in Türkiye have been affected by the devastating quakes.
All scientists said the process was "not an ordinary one," Erdoğan said, adding: "Türkiye is seized by an earthquake storm."
"We will remove the debris, we will heal the wounds, we will replace the collapsed houses with well-constructed ones, we will win the hearts, we will build a new future and a new life for our people," he pledged.
Erdoğan said nearly 204,000 buildings either collapsed, were severely damaged or must be demolished immediately, adding that 98% of these buildings were constructed before 2000.
A total of 271,000 civil servants were assigned in the region and teams from 90 countries worldwide also joined the efforts to help save people, the president said.
"Of course, despite this, there were some shortcomings, disruptions and delays … Telling the shortcomings and asking for the blessing is not our weakness, it is the expression of the sincere love between us and our nation," Erdoğan added.
He said that they also plan to create a national risk shield model for Türkiye and that they will hold its first meeting on Friday.
Erdoğan said debris removal continues in the region where the search and rescue efforts ended.
"We are planning to build a total of 468,031 households in the earthquake zone …" he said, asking for a year for it.
Türkiye provided nearly 1.6 million citizens in the earthquake zone with shelter, Erdoğan said, adding: "1.4 million of our citizens live in 356,000 tents we set up in the region, and 34,000 in the container cities we have put into service."
He added that 811,000 citizens were evacuated to other cities.
The president also announced the formation of a disaster reconstruction fund to help cities recover quickly after the earthquakes.
"This fund, which will operate with transparent management, will reduce the burden on the budget by providing long-term resources for disasters," he added.